Gen info
Corchorus is a genus plant of about 40-100 species in the family Malvaceae. Jute is confusingly applied to any plant of the genus Corchorus and to its fiber. The chief sources of the fiber are the two species of Corchorus plant: C olitorius and C capsularis. In the Philippines, three Corchorus species are recorded with medicinal uses: Pasau, Pasau na bilog, and pasay na hapa. Another pasau, Pasau-na-hapai, Jussiaea erecta belongs to the family Onagraceae.
Botany
Pasau-na-haba is an erect, branched, smooth or nearly smooth, half-woody shrub, 1 to 1.5 meters high. Leaves are ovate-lanceolate, 5 to 12 centimeters long, pointed at the tip, blunt at the base, bearing a pair of taillike projections, and toothed at the margins. Flowers are axillary, solitary, yellow, and about 6 millimeters long. Capsules are elongated, cylindric, about 3 to 3.5 centimeters long, with 10 ribs, 3 to 6 valves, with transverese partitions between seeds. Seeds are dark, bluish green, angular, about 2 millimeters long, and very bitter.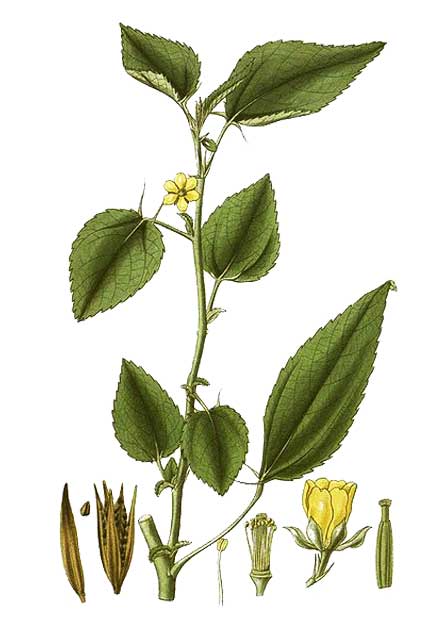 Distribution
- In and near settlements, on rice-paddy banks, in fallow paddies, etc., throughout the Philippines.
- Native of the Old World.
- Pantropic.
Constituents
• Japanese study isolated an acidic polysaccharide, Moroheiya.
• Leaf study has yielded anthocyanin.
• Studies have yielded tannins, flavonoids and glycosides.
• Six phenolic antioxidative compounds were identified, the most dominant was 5-caffeoylquinic acid.
Properties
Considered demulcent, diuretic, febrifuge, purgative, tonic.
Parts used
Whole plant, especially the. seeds and leaves.

Uses
Edibilty / Nutritional
- Growing wild, extensively eates as a green vegetable in the Philippines, especially by the Ilokanos.
- Cooked, it is mucilagious and slimy, with a good flavor.
- Dried leaves used as soup thickener and for tea.
- Shoots are an excellent source of iron, calcium, phosphorus and vitamin C.
- A good source of vitamin B.
- In many part of the world, the plant has become a vegetable source.In Bengal, in spring, shoots are pulled from the fields and eaten with rice as a vegetable.
Folkloric
- Seeds are used as purgative.
- In India infusion of leaves used as tonic and febrifuge.
- Leaves are demulcent, tonic, and diuretic; used for chronic cystitis, gonorrhea, and dysuria.
-Cold infusion of leaves used as bitter tonic, used by patients recovering from dysentery, to restore the appetite and improve strength.
- Powdered seeds with honey and ginger for diarrhea.
- Grains of the powder mixed with equal amounts of Curcuma longa used for acute dysentery.
- Infusion of seeds for fever and liver congestion.
- Hindus reduce the plant to ashes, mix it with honey, and use it for obstruction of the abdominal viscera.
- In South India, the dried plant is used as demulcent. Powder of leaves, 5 - 10 grains, mixed with powdered tumeric in equal parts, used for dysentery.
Others
Jute: A source of commercial jute but not as abundant as that from Pasau-na-bilog (Corchorus capsularis)



Studies
• Moroheiya: Japanese study isolated an acidic polysaccharide, Moroheiya from dried leaf extract of CO which showed proliferative activity toward murine splenocyte.
• Antibacterial: (1) Study of methanol extract of C olitorius seed showed a broad spectrum of antibacterial activity. (2) Study of CO methanol and chloroform extracts showed it possesses antibacterial activity comparable to some standard antibiotics. (3) Study of leaf extract showed high potency against E coli supporting its use for gastroenteritis.
• Anticonvulsant: Study of the methanolic extracts of C reflexa stem and C olitorius seed showed marked protection against convulsions induced by chemoconvulsive agents in mice probably through aterations of the catecholamines and amino acids in mice brain.
• Phenolic antioxidants: Six phenolic antioxidative compounds were identified from the leaves of CO. Results showed that 5-caffeoylquinic acid was a predominant phenolic antioxidant in CO leaves.
• Antinociceptive / Antiinflammatory: Extract study exhibited significant antinociceptive and antiinflammatory activities confirming its traditional claims in inflammatory and painful ailments.
• Cardiotonic / Hypertensive: The total alkaloid extract of C olitorius and the cardenolide mixture isolated from it showed cardiotonic, laxative, ecbolic and hypertensive properties.
• Antiinflammatory / Antipyretic: Study of an aqueous extract of C olitorius in rats showed significant anti-pyretic and anti-inflammatory activities supporting its folkloric use in the treatment of inflammation and fever.
• Anti-Obesity / Polyphenolic Compounds: Study demonstrated an anti-obesity effect of polyphenolic compounds from molokheiya leaves. The effect was associated with a reduction in oxidative stress and enhancement of B-oxidation in the liver. Results suggest the consumption of molokheiya leaves may be beneficial for preventing diet-induced obesity.
• Arsenic-Induced Toxicity / Protective Effect: Study showed a protective effect of the aqueous extract of C olitorius leaves against arsenic-induced brain toxicity in experimental animals. Prior treatment showed dose-dependent increase in antioxidant markers. Histopath exam of the brain tissue supported the protective activity.
Availability
Wild-crafted.