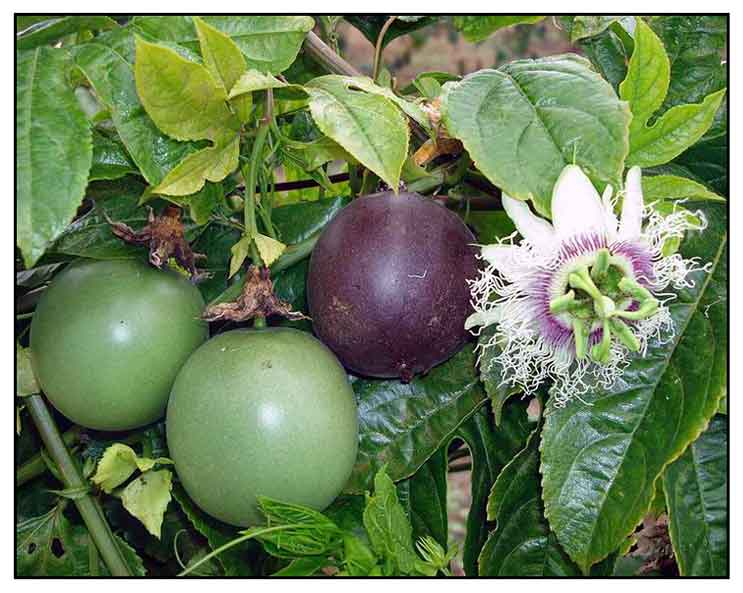 General info
Passiflora edulis belongs to the Passifloraceae family, with about 500 species distributed in warm temperatures and tropical regions.
Botany
Pasyonaryo is a sturdy climbing vine with angular stems. Leaves are ovate, deeply 3-lobed, green, with many serrate edges, up to 13 centimeters broad. Fruits are edible, globular-oblong, dull purplish, with a hard rind, up to 6 centimeters in diameter.
Distribution
- Native to Brazil.
- In the Philippines, cultivated in gardens in towns and cities.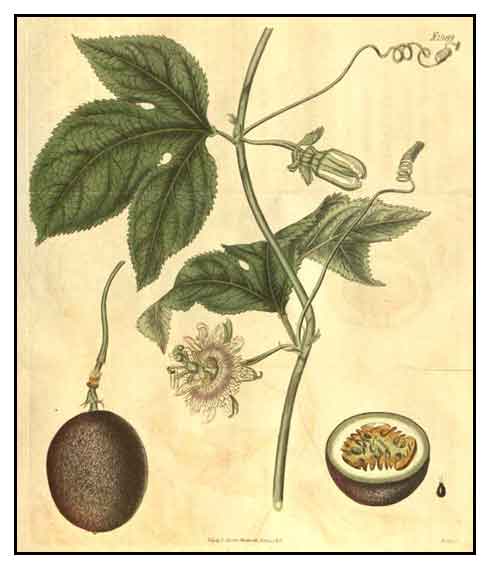 Constituents
- Phytochemical screening of leaf and callus yielded alkaloids, saponins, tannins, and triterpenes from ethanol and chloroform extracts. (See study below) (5)
- Study of methanolic and aqueous extracts revealed a predominance of triterpenoid steroids and saponins. The methanolic extract also showed tannins and flavonoids. (See study below) (7)
- Flavonoids, mainly C-glycosylflavones, are the major constituents of leaves and pulp. (9)
- Phytochemical analysis of various extracts of leaves yielded saponins, steroids, cardiac glycosides, amino acids, terpenoids, alkaloids, flavonoids, phenolic compounds, reducing sugars, and tannins. A methanolic extract yielded 5 bioactive compounds, viz., dodecanoic acid,10-methyl-,methyl ester (C14H28O2 ), E,E,Z-1,3,12-Nonadecatriene-5,14-diol (C19H3402), 9,12,15-Octadecatrienoic acid,2,3- dihydroxypropyl ester (Z,Z,Z) (C21H36O4 ), S.Hexadecenoic acid,9-octadecenyl ester (Z,Z) (C34H64O2 ) and Docosanoc acid,1,2,3 propanetriyl ester (C69H134O6) respectively. (11)
- Nutritive analysis of fresh fruit per 100 g yield 97 Kcal, 23.38 g. carbohydrates, 2.20 g. protein, 0.70 g total fat, 0 mg cholesterol, 10.40 g dietary fiber. Vitamin contents yielded 14 µg folates, 1.50 mg niacin, 0.10 mg pyridoxine, 0.130 mg riboflavin, 0 mg thiamine, 1274 IU vitamin A, 30 mg vitamin C, 0.02 µg vitamin E, 0.7 mg vitamin K. Electrolytes yielded 0 mg sodium, 348 mg potassium. Minerals analysis yielded 12 mg calcium, 0.086 mg copper, 1.60 mg iron, 29 mg magnesium, 68 mg phosphorus, 0.6 µg selenium, and 0.10 mg zinc. Phytonutrient analysis yielded 743 µg carotene-B, 41 µg crypto-xanthine-B, and 0 µg lycopene. (19)
Properties
- Studies have shown antibacterial, anxiolytic, anti-inflammatory and lipid-benefit activities.
- Studies have suggested the fruit rind has a higher nutrient content than the pulp. (9)

Parts used
Leaves, fruits.

Uses
Culinary
- In Brazil, the fruit is widely cultivated and used in the food industry as processed juices.
Folkloric
- No reported medicinal use in the Philippines.
- Elsewhere, used for hypertension.
- In Brazil, leaves extracts long used as sedative. Flower decoction used to treat asthma, bronchitis, and whooping cough. In American countries, leaves used for anxiety and nervousness. (11)

Studies
• Anxiolytic Activities / Flavonoid Contents / Comparative Effects: Study compared the anxiolytic activities and flavonoid compositions of species of P. edulis with purple fruit and yellow fruit. Ethanolic extracts of P. edulis flavicarpa displayed anxiolytic activities while P. edulis edulis exhibited sedative effect. Study yielded six major flavonoid compounds from the leaves of PE 'flavicarpa': lucenin-2, vicenin-2, isoorientin, isovitexin, luteolin-6-C-chinovoside, and luteolin-6-C-fucoside. Results suggest flavicarpa is extremely different from edulis and should be distinguished. (3)
• Anxiolytic Activities: Study of hydroalcoholic extracts of P alata and P. edulis leaves using the elevated plus-maze test showed anxiolytic activity. (4)
• Phytochemicals / Antibacterial: Study evaluated the phytochemical and antibacterial activity of leaf and callus of P. edulis Sims using various extracts. A chloroform extract of leaf and callus showed the maximum solubility and antimicrobial activity. (5)
• Increased HDL Cholesterol Levels / Industrial Waste Potential: Study evaluated the biochemical profile of male Wistar rats treated with extract of rind of Passiflora edulis. Results showed increase in HDL cholesterol levels. The passion fruit rinds are discarded by fruit processing plants and its waste has a potential as source of new functional product. (6)
• Anti-Inflammatory / Antibacterial / Leaves: A methanolic extract exhibited significant antibacterial activity against S. aureus. The extracts were devoid of antifungal activity. A methanolic extract exhibited significant anti-inflammatory activity in Wistar rats using carrageenan-induced left hind paw edema method. (7)
• Angiotensin-Converting Enzyme Inhibitory Activity: Study evaluated the ACE-inhibitory effect of several extracts from species of P. edulis and P. crispus. Considerable angiotensin-converting enzyme inhibitory activity was found for Passiflora edulis ethanolic extracts of fruit juice and leaves but not for Petroselinum crispum leaves. (8)
• Antioxidant / Isoorientin / Fruit Rind: Study showed a higher amount of isoorientin in healthy rinds. Studies allied to assays of radical scavenging activity suggest the potential of P. edulis rinds as a natural source of flavonoids or as a possible functional food. (9)
• Lipid and Oxidative Stress Benefits: Study showed P. edulis juice in experimental conditions showed beneficial effects on lipid profile and improved lipid peroxidation in Wistar rats. (10)
• Antimicrobial: Study evaluated the antimicrobial activities of the leaf extracts against Escherichia coli, Bacillus subtilis, Staphylococcus aureus, Pseudomonas aeruginosa, Salmonella typhi, Klebsiella pneumoniae. A methanol extract exhibited the best antimicrobial activity against the bacteria. (11)
• Human Spermicidal Effect / Fruit Extract: Study evaluated the spermicidal activity of Passiflora edulis extract on human spermatozoa. Results showed decreased motility and viability. Extract showed no cytotoxic effects on proliferation of MDBK and VERO cells. (12)
• Diabetes Benefits / Decreased Insulin Resistance / Peel Flour Supplementation: P. edulis fruit peel flour have showed positive action in adjuvant blood glucose control. Study showed supplementation decreased insulin resistance in type 2 diabetic patients, suggesting a potential for adjuvant therapy in blood glucose control. (13)
• Sedative / Anticonvulsant / Dried Leaves: P. edulis extract showed sedative activity in mice, significantly increasing total sleep time induced by diazepam. The extract also showed anticonvulsant activity protecting mice against strychnine-induced seizures and antagonized NMDA-induced turning behavior in mice. (14)
• Toxicity Studies / Effect on Hematological Parameters / Safety: Study evaluated the toxicological effects of aqueous leaf extract in Wistar albino rats in acute and subacute toxicity studies. Results showed no effect of hematological parameters, renal and hepatic markers. Acute toxicity study showed the extract to be safe up to 2000 mg/kg. Subacute study showed no effects on bone marrow function, with no hepatotoxic or nephrotoxic effects. (15)
• Anti-Anxiety: Study in rats showed that, similar to diazepam, P. edulis and P. alata induced anxiolytic-like effects in rats, with no disruption in the memory process. P. edulis required lower active doses of aqueous extracts than P. alata in inducing anxiolytic-like effects. (16)
• Antioxidant / Leaves: Study evaluated an ethanol extract of P. edulis leaves for antioxidant activity using a DPPH quenching assay and reducing power test models. The leaf extract showed potential antioxidant in both assay models. Phytochemical analysis yielded saponins, tannin and phenolic compounds, flavonoids, steroids, oils and fats, and terpenoids. (17) Study evaluated the leaf extracts of P. alata and P. edulis for antioxidant activities in in vitro and ex vivo assays. Both extracts showed antioxidant properties, the activities significantly correlating with polyphenol contents. Both extracts attenuated ex vivo iron-induced cell death. (18)
• High Fiber Diet Effect on Metabolic Profile: Study evaluated the effect of high-fiber diet albedo of passion fruit on metabolic and biochemical profile in alloxan induced diabetic rats. Results showed a statistically significant decrease in plasma glucose, suggesting a potential hypoglycemic effect and an ability to reduce triglycerides and VLDL-cholesterol levels, with a principal reduction of insulin and leptin. (20)
• Analgesic / Leaves: Study evaluated leaf extracts of P. edulis for analgesic activity by tail immersion method in Swiss albino mice. The n-butanol extract showed better analgesic activity when compared to the other extracts and the standard drug, aspirin. (21)
• Hypoglycemic / Leaves: Study investigated P. edulis for hypoglycemic effects in Wistar albino rats. Results showed significant hypoglycemic activity which may be attributed to the presence of phenols and flavonoids. (22)
• Piceatannol / Seeds / Melanogenesis Inhibition / Promotion of Collagen Synthesis: Study evaluated the effect of passion fruit o melanin inhibition and collagen synthesis on cultured human melanoma and fibroblast cells. Fruit seeds yielded piceatannol (3,4,3′,5′-tetrahydroxy-trans-stilbene), a major component shown to be responsible for the effects on melanogenesis and collagen synthesis. (23)
• Antihypertensive Effect / Leaves and Fruit Juice: Study showed the ethanolic extract of leaves and fruit juice of P. edulis were effective in decreasing the arterial blood pressure in hypertensive rats, with oral acute toxicity. (24)
• In Vitro Anti-Sickling Potential Effect: Study evaluated the in vitro antisickling potential of aqueous extracts of leaf and fruit extracts of P. edulis. Results showed activities with linear increase in inhibitory and reversal activities as concentration of the aqueous extract increased. The leaf extract was more active in inhibitory and reversal activities compared to the fruit juice. (25)
• Neuropharmacological Effects / Pericarp: Study evaluated the central effects of various extracts and fraction of P. edulis flavicarpa in mice. Results showed an anxiolytic-like effect. The AE showed a sedative effect, potentiating the hypnotic effects of ethyl ether. The extracts and fractions showed a predominance of C-glycosylflavonoids, identified as isoorientin, vicenin-2-spinosin, and 6,8-ci-C-glycosylchrysin. (26)

Availability
Wild-crafted.