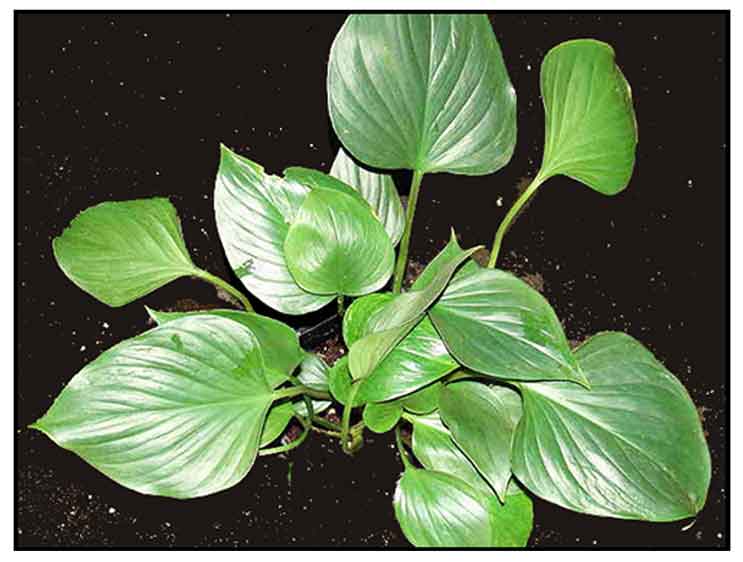 Gen info
- The Plant List includes 212 scientific plant names of the species rank for genus Homalomena, with 106 accepted species names. (5)
- Homalomena derives from a mistranslated Malayan vernacular name, homalos meaning flat, and mene meaning moon. (4)
- Many species of Homalomena yield a strong smell of anise. (4)

Botany
Payau is an herbaceous plant up to 1 meter high. Leaves grow in clusters from the ground, heart-shaped with pointed tip, 25 to 30 centimeters long, and on long petioles. (Leaves can grow up to 1 m tall from the underground corm.) Spathe is greenish, flushed with purple, oblong, 4 to 5 centimeters long. Spadix is about 3.5 centimeters long. Seeds are ovoid, and about 5 millimeters long.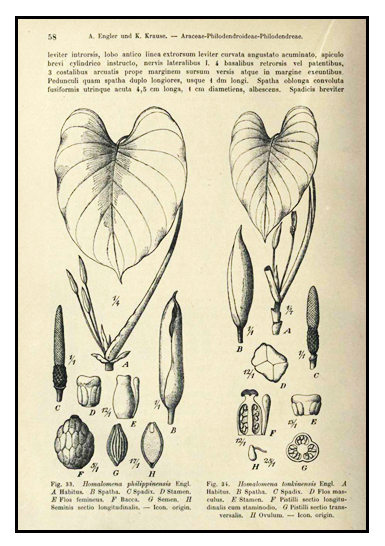 Distribution
- Native to the Philippines.
- Along small streams in primary forests at low altitudes, often common but endemic
- Common in Isabela, La Union, Pangasinan, Pampanga, Rizal, Bataan, Laguna, and Sorsogon Provinces in Luzon; Mindoro; Palawan; Panay; Leyte; Biliran; Negros; and Mindanao.
- Also native to Taiwan; reported in the Lan Yu Islands.
Constituents
- Study of rhizomes for secondary metabolites yielded carbohydrates, flavonoids, proteins, sterols, and tannins. Alkaloids were absent. (see study below) (6)
- Phytochemical screening yielded steroids and saponins.
- Proximate nutritional composition of wild tubers yielded 69.79 % moisture, 0.001 % ash, 26.90% total carbohydrate (d.w.), 0.28% crude fat, 2.14% crude protein, 0.87% crude fiber, 1.14 mg Vitamin C.
Properties
- Toxicity / Caution: The species belongs to a family where members contain calcium oxalate crystals. Tubers may be toxic when eaten fresh, which can cause needling irritation in the lips, mouth, tongue and throat. It is advised that tubers be soaked in washed, or soaked in salt water before boiling or steaming
- Antirheumatic, vulnerary.
- Petioles have a sweet chewing gum scent when crushed.
- Study suggested antibacterial property.

Parts used
Rhizomes, leaves.

Uses
Edibility
- Tubers are edible, usually soaked in salt water before boiling or steaming.
- Large leaves are extensively used in the Camarines area for wrapping articles of food.
Folkloric
- Rhizomes used as antirheumatic in the form of embrocation. (2)
- Leaves used as vulnerary.
- Leaves applied to bruises. Heated petioles applied to hemorrhoids.
- The Subanen tribe of Lapuyan, Zamboanga del Sur sniff sliced and pounded stems for colds. Outer layer of stems fashioned into a necklace and tied around a child's neck for colds. (3)
- The Ati tribe use the plant for treatment of boils.
- In Leyte, for rheumatism, arthritis and osteoarthritis, decoction of sun-dried corm or warm leaf poultice applied overnight on affected area. For headaches, stomachache, and hemorrhoids, warm leaf poultice applied on affected area. For paralysis, warm poultice of pounded leaves applied on affected area. Corm decoction drunk for sore throat. (7)
- Agusan Manobo in Agusan del Sur, Philippines, use the plant for treat colds, body aches, headache, fever, tonsillitis, impotence and sterility, hemorrhoids, rheumatism, cuts and wounds, and to facilitate labor and delivery. (8)
Others
- Wrapping food: Large leaves used in the Camarines for wrapping food. (2)
Studies
• Antibacterial / Rhizome: Phytochemical screening of rhizome extract showed mild inhibitory effect against Staphylococcus aureus. Extract showed no inhibition of Escherichia coli, Candida albicans, and Saccharomyces cerevisiae. (see constituents above) (6)

Availability
Wild-crafted.