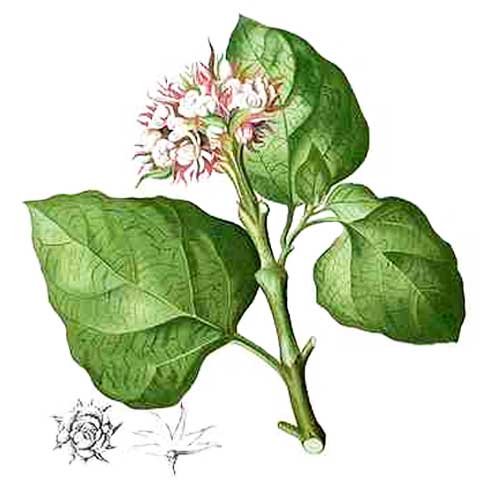 Botany
Pelegrina is an erect, branched, somewhat hairy shrub, 1 to 2 meters in height. Leaves are broadly ovate, up to 25 centimeters long, pointed at the tip and blunt at the base. The inflorescences (cymes) are short-stalked and terminal, 6 to 12 centimeters in diameter, densely crowded with flowers. Flowers are fragrant, in stalks 1 to 2 centimeters long. The calyx-tube is rather slender below and enlarged above, with five to six lanceolate lobes which are reddish-purple and about 1.5 centimeters long. Corrola is white, 3 to 3.5 centimeters in diameter and 1 to 1.5 centimeters long in the tube.
Distribution
- Cultivated in and near towns throughout the Philippines.
- Occasionally, an escape plant.
- Native of southeastern Asia, from southern China and northern Viet Nam.
- Now pantropic.
Constituents
- Yields (24S)-ethylcholestra-5, 22,25-triene-3ß-ol.
- Petroleum ether extracts yielded steroids - clerosterol and deucosterol.
- Yields phenolic compounds acetoside, leucosceptoside A, isoacteoside, methyl and ethyl esters of caffeic acid, jinoside.
- Leaves yield flavonoids, kaempferol.
- Aerial parts yielded a new iridoid diglucoside, 5-O-ß-glycopyranosyl-harpagide with three known iridoid glucosides and six known cyclohexylethanoids.
- Study isolated two minor sterols: 24β-methylcholesta-5,22E,25-trien-3β-ol and 24α-ethyl-5α-cholest-22E-en-3β-ol.
Uses
Folkloric
- The Malays use the plant externally as a poultice, for rheumatism and ague; or mixed with other substances, for skin ailments.
- In the Guianas, decoction of leaves used for scabies.
Studies
• Phytochemicals: Study yielded beta-sitosterol, clerosterol, daucosterol, caffeic acid, kaempferol, 5,4'-dihydroxy-kaempferol-7-O-beta-rutinoside, acteoside and leucoseceptoside A.
• Anti-Leukemic: Study showed promyelocytic cell liine HL-60 could be induced to differentiate into morphologically and functionally mature monocytoid cells (up to 20%) after dose-dependent exposure to Clerodendron fragrans working in synergism with interferon-r. Results suggest a potential therapeutic value for the treatment of certain acute myelocytic leukemia.
Availability
Seasonal fruiting and ubiquitoous market produce.