Botany
Calliandra haematocephala is a spreading well-branched shrub or small tree, growing to a height of 1 to 3 meters. Branches are brown, cylindric, and rough. Leaves are pinnately compound, oblong, acute, with 5 to 10 pairs of glossy green leaflets. Flowers are clustered in globose heads, up to 7 centimeters across. Stamens are numerous, long and silky, very brilliant, pink to red. Fruit is a dehiscent pod, dull brown, linear -oblanceolate, 6 to 11 centimeters long, 5 to 13 millimeters wide, opening along the sutures when ripe. Seeds are 5 to 6, brown and oblong.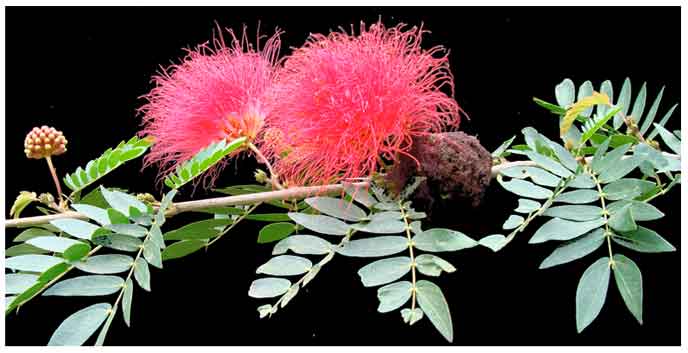 Distribution
- Ornamental cultivation; grown in gardens and parks.
- Native to tropical America.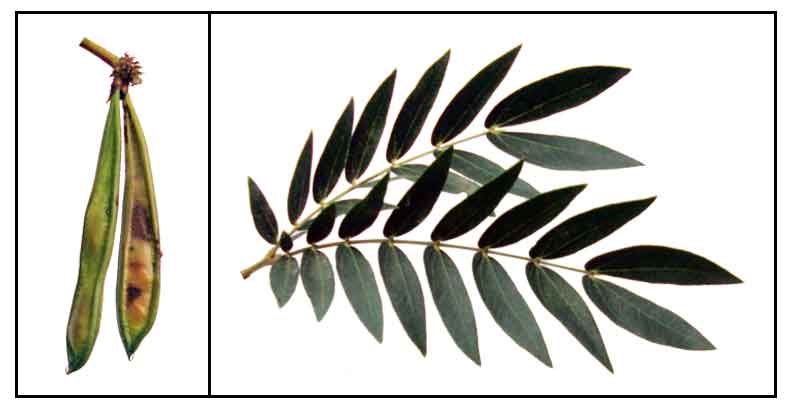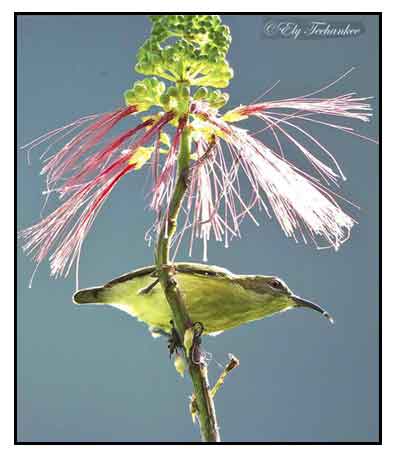 Constituents
- Fractionation of EtOAC extract of bark yielded p-hydroxybenzoic acid, caffeic acid, protocatechuic acid, astilbin, neo-isoastilbin, and catechin-3-O-rhamnoiside. (See study below)
- A non-active fraction yielded lupeol and betulinic acid.
- Condensed tannins from leaf were prodelphinidins, mainly of (epi)gallocatechin and (epi)gallocatechin-3-O-gallate units. Condensed tannins from wigs and stem bark were predominantly of procyanidins, with catechins, epicatechin, and (epi)catechin-3-O-gallate as main constituents. (see study below) (9)
Properties
- Studies with other species of the genus showed various pharmacological properties: anti-inflammatory, anticonvulsant, immunomodulatory, and antiulcerogenic.
Uses
Folkloric
• No reported folkloric medicinal use in the Philippines.
• In Nigeria, roots used in the treatment of hemorrhoids. (7)
• Elsewhere, decoction of the flowers used as blood purifier and tonic.

Studies
• Antioxidant / Flavonol Glycosides / Cytotoxicity: Study isolated three new acylated quercetin rhamnosides from the leaves and stems – quercitrin 2"-O-caffeate, quercitrin 3"-O-gallate and quercitrin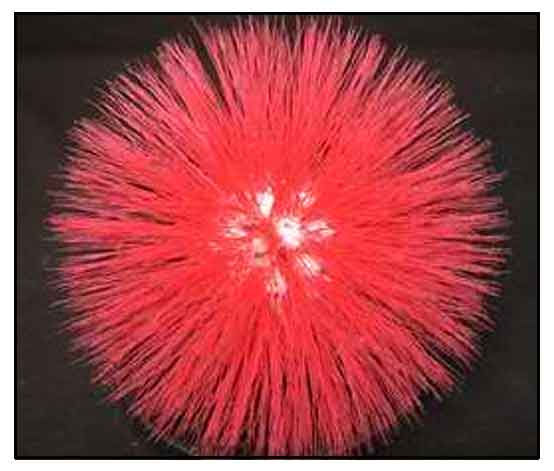 2",3"-di-O-gallate – with 17 known compounds. Six compounds exhibited moderate to strong radical scavenging properties. Compounds 7 and 8 (myricitrin and quercitrin) exhibited lethal effect towards brine shrimp Artemia salina. (1)
• Gastroprotective: Study of butanolic extract for gastroprotective effects in acute gastric lesions induced by acidified alcohol showed a gastroprotective effect with moderate control of gastric lesions and inhibition of hemorrhage and necrotic aspects of tissue injury. (5)
• Antibacterial: Study evaluated ethanolic extractable constituents of bark of C. haematocephala against selected bacteria. Results showed varied antibacterial activity. Fractionation yielded known compounds which showed varied antibacterial activity. (6)
• Condensed Tannins / Antioxidants: Condensed tannins isolated from bark, stems, and leaves of Calliandra haematocephala were evaluated for in vitro antioxidant activities using ABTS+ and FRAP methods. All the condensed tannins exhibited stronger antioxidant activities than synthetic antioxidant BHA. Activity was related to the number of hydroxyl groups on the B-ring and level of 3-O-galloylation. (see constituents above) (9)
• Anti-Rotaviral / Leaves: Study evaluated the antiviral activity of various extracts from Calliandra haematocephala leaves against rotavirus (RS) infection in-vitro. All extracts of CH at non-cytotoxic concentrations exhibited anti-RV activities with the methanol extract showing strongest activity. In vivo oral administration of the ME significantly reduced mortality, virus titers, duration, and severity of diarrhea, as well as alleviation of RV-related small intestinal lesions. (10)
• Silver Nanoparticles / Leaves: Study reports on the synthesis of silver nanoparticles using Calliandra haematocephala leaf extract. Study showed antibacterial activity against E. coli and the capacity to detect hydrogen peroxide suggesting potential applications in the development of new antibacterial drugs and new biosensors. (11)

Availability
Wild-crafted.