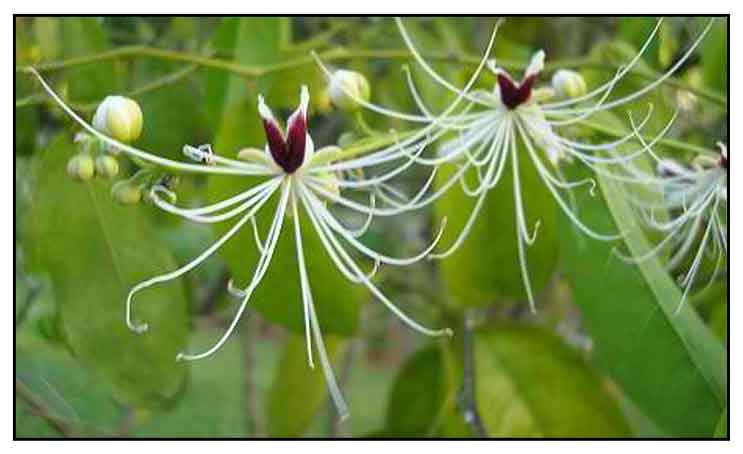 Botany
Salimbagat is a smooth, half-erect shrub with drooping branches or a vine growing to 2 to 4 meters, with short, sharp and nearly straight stipular thorns. Leaves are oblong to oblong-elliptic, 8 to 17 centimeters long, leathery, shiny, with a blunt apex and rounded base. Flowers are in vertical line along the branches above the leaf axils, shortly pedicelled, 2 to 6 in a series, the uppermost one of each series opening first. Sepals are pale green. Petals are oblong or elliptic, 1 centimeter long. Fruit is ovoid or rounded, 4 to 5 centimeters long, smooth and bright red when ripe. Rind is thin, somewhat stony. Within the rind is a whitish and transparent sweet pulp with a fairly good flavor. Numerous seeds are embedded in the pulp.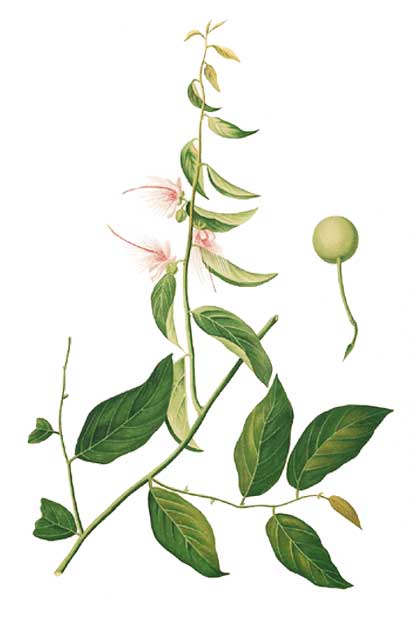 Distribution
- In thickets, second-growth forests, at low and medium altitudes from northern Luzon to Mindanao.
- Also occurs in Myanmar, Thailand, and Indo-China to the Malay Peninsula and Archipelago.
Parts utilized
Roots.
Uses
Folkloric
- In the Philippines, decoction of roots used for stomach pains and as uterine tonic after childbirth.
- Plant also used for asthma and for breast pains.
- Bark is used as diuretic and used for bronchitis and nasal ulcerations.
- In Cambodia, roots and wood used as diuretic.
- In the Yasothon province of Thailand, roots used as tonic; also, for tuberculosis.
Stems used for breast cancer.
In India, root is grated with water and used to treat quotidian fever.
In Indonesia, root is employed as a diuretic; infusion with other ingredients used for bronchitis.
Others
- Benchalokawichian (BCW): Capparis micracantha is one of five root components of the Thai traditional herbal formulation together with Ficus racemosa, Clerodendrum petasites, Harrisonia perforata, and Tiliacora triandra.

Studies
• Anti-Cancer / Antituberculosis / Non-Cytotoxicity: Study of hexane extract of the leaves of Capparis micracantha showed lung cancer inhibition. The hexane and dichlormethane extracts of flowers showed anti-tuberculosis activity. All crude extracts showed non-cytotoxicity against Vero cells. (3)
• Antibacterial / Benchalokawichian Remedy: Study evaluated the antimicrobial activity of a Thai traditional formula, Benchalokawichian remedy, which has shown antipyretic and antiseptic properties on previous studies. The water extracts of the components (Capparis micracantha, Tiliacora triandra, and Harrisonia perforata) inhibited the Gram positive and Gram negative bacterial strains tested. Only T. triandra showed activity against C. albicans growth. (6)
• Potential Contact Allergy: Study of an ethanolic extract of Thai medicinal formula "Benjalokawichien (Ha-Rak)" showed phenolic content with good anti-IgE effect. Tests showed no irritation or human skin allergic reaction. Extract of Capparis micracantha DC root caused an allergic reaction and suggests it may not be safe to use as active ingredient in topical preparations for skin. (8)

Availability
Wild-crafted.