Botany
Salita is an annual, erect, branched herb, 40 to 80 centimeters high, more or less covered with short hairs. Leaves are linear to linear-lanceolate, 5 to 9 centimeters long, 8 to 13 millimeters wide, pointed at both ends and somewhat toothed at the margins. Whorls of many flowers are axillary and terminal. Calyx is about 1 centimeter long, green, very oblique, and sharply toothed. Corolla is white and 1.5 centimeters long; the central lobe of the lower lip is obovate, truncate and 8 millimeters wide.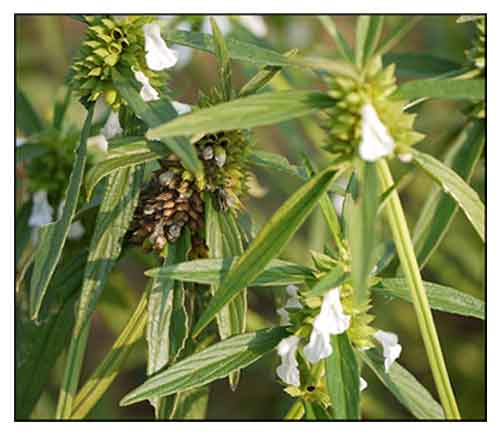 Distribution
- Very common weed in open, waste places at low and medium altitudes.
- Found from Cagayan to Sorsogon Provinces in Luzon; and in Polilo, Mindoro and Mindanao (Surigao).
- Introduced.
- Also occurs in Indian to southern China, the Mascarene Islands, and Malaya.
Constituents
- Chloroform extract yielded acacetin, chrysoeriol.
- An ethanolic extract yielded carbohydrates, alkaloids, steroids, flavonoids, triterpenoids, essential oil, fatty alcohol, saponins, tannins. (4)
- Study yielded acacetin, chrysoeriol, linifoliside, linifoliol, chrysoeriol-6"(OAc)-4-ß-glucoside, lupeol and taraxerone.
- Aerial parts reported to yield a glycoside, linifoliside, an essential oil, and fatty alcohol.
- Study of essential oil of the SPME head space sample yielded main compounds of ß-caryophyllene (20.5%), linalool (19.8%) , 1-octen-3-ol (12%), cis-3-hexen-1-ol (11.6%) trans-2-hexen-1-ol (3.5%) hexanol (3.3%), 3-octanol (2.5%) and trans-2-octen-3-ol (2.3%). (14)

Properties
- Studies have shown anthelmintic, analgesic, antimicrobial, antitussive, diaphoretic, febrifuge, hepatoprotective, hypoglycemic, stimulant, stomachic and wound healing properties.

Parts used
Leaves.

Uses
Folkloric
- In the Philippines, poultice of fresh leaves applied on wounds, especially those with inflammation.
- Decoction of leaves used as stomachic.
- Crush leaves applied to areas of dermatoses.
- In India, leaves, raw or roasted and eaten with salt, have febrifugal properties.
- In India, plant used to alleviate abdominal discomforts such as stomach ulcerations and used to counteract abdominal and liver diseases. (9)
- In India, leaves are used as expectorant, laxative, stomachic, and tonic; used for piles and sore eyes. Juice of fresh leaves applied for colds and chronic headaches. In Assam, paste of young leaves used to stop nose bleeds. (14)
- Leaves are used for roundworms.
- Decoction or poultice of leaves used for old sores.
- Decoction of leaves used as anthelmintic.
- Decoction or poultice used for ulcers, skin disorders and leprosy.
- Used for rheumatism and snake bites.
- To remove mucus, juice used as eye drops, sniffed up the nostrils, or as gargle.

Studies
• Anti-Ulcer: Study on indomethacin-induced gastric ulcers in rats showed the L lavandulifolia extract exhibited ulcer protection activity in a dose-dependent manner. (1)
• Anti-Diabetes: Study of methanol extract of Leucas lavandulaefolia on streptozotocin-induced diabetic rats showed a significant reduction of blood glucose. (2)
• Hepatoprotective: Study of chloroform extract of aerial parts of L. lavandulifolia on D(+)galactosamine-induced hepatic injury in a rat model showed significant decreases in hepatic enzymes, total cholesterol and total bilirubin. Results suggest a hepatoprotective effect in rats.
• Wound Healing: Study showed that L. lavandulifolia extract either in ointment or injection form produced a significant respond in both excision and incision wound models. The wound healing property was attributed to the presence of glycosides or terpenoids in the essential oil of the plant. (4)
• Antitussive: Study in mice animal model showed significant dose-dependent inhibition of cough similar to the standard of codeine phosphate. (4)
• Antidiarrheal: Study of the ethanolic extract of aerial parts showed reduction of diarrhea through inhibition of gastrointestinal motility and PGE-2-induced enteropooling.
• Anthelmintic: Study evaluated the anthelmintic activity of L. lavandulifolia, L. cephalotes and L. aspera on the Indian earthworm Pheritima posthuma model. Dose dependent activity was noted with both methanolic and aqueous extracts. L. lavandulifolia methanol extract exhibited better activity than the other extracts, although not better than the reference drug Albendazole. (5)
• Anthelmintic: Study evaluated the anthelmintic activity of L. lavandulifolia, L. cephalotes and L. aspera using earthworm Pheretima posthuma. A methanolic extract of L. lavandulifolia showed the dose-dependent activity better than the other extracts but not better than the reference drug albendazole. (8)
• Analgesic / Hepatoprotective: Study of a methanolic extract of leaves in albino rats showed potent analgesic activity with significant reduction of pain threshold and increase latency period in thermal stimulation. In carbon tetrachloride induced damage, it showed antihepatotoxic activity with significant reduction of liver enzymes with no apparent disruptions of normal hepatic histological structure. (10)
• Hypoglycemic / Flowers: Study of a chloroform extract of flowers in alloxan induced diabetic rats showed significant reduction of in blood glucose and HbA1c, with an increase in total hemoglobin.
• Hepatoprotective / Carbon Tetrachloride Toxicity: Study of ethyl acetate extract of aerial arts of L. lavadulalifolia showed significant hepatoprotective activity against CCl4-induced toxicity in rats. (12)
• Antioxidant / Free Radical Scavenging: Study of evaluated the antioxidant, free radical scavenging, and cytotoxic effect of ethanolic extracts of whole plant of L. indica var lavadulifolia and L. indica var. nagalapuramiana. Results showed both extract to be a potential source of valuable antioxidant products. (13)
Availability
Wild-crafted.