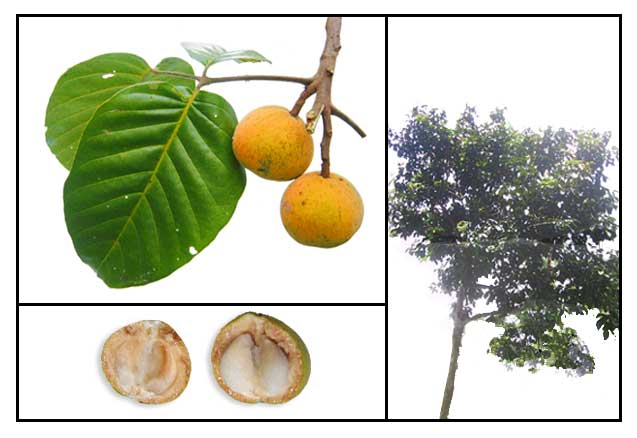 Botany
Santol is a tree growing up to 20 meters high, with softly hairy young branches and leaves. Leaves are groups of 3 leaflets, elliptic to oblong-ovate, 10 to 25 centimeter long, with pointed tips and round bases. Flowers are numerous, somewhat fascicled, about 1 centimeter long, in greenish or yellowish clusters. Fruits are rounded and somewhat flattened, 4 to 6 centimeters, yellowish-orange when ripe with a thick pericarp. Seeds are large, surrounded by a translucent or pale, sweet tasting edible pulp.

Distribution
- Throughout settled areas in the Philippines, planted or semi-cultivated, and abundant in secondary forests.
- Introduced into the Philippines, now thoroughly established.
- Native to Malaysia, Cambodia and Southern Laos.
- Reported in Indonesia, India and the Andaman Islands.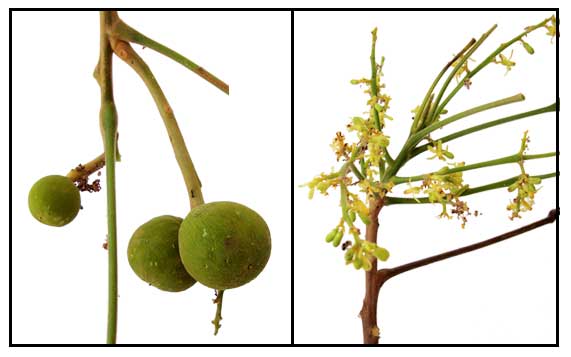 Constituents
- Bark contains traces of a bitter principle, a toxic alkaloid.
- Seed contains an amorphous bitter principle.
- Bark also contains a bitter substance, sandoricum acid, similar to acids found in Chisocheton, dysoxylum, heynea and carapa.
- Thai study yielded two new limonoids from the leaves: sandoripin A and sandoripin B.
- Study on leaves have yielded trijugin-type limonoids, sandrapins A, B, C, D and E and sandoripin A and B.
- Studies have yielded more than 10 terpenoids.
- Seeds have yielded andirobin-type limonoids - sandoricin and 6-hydroxysandoricin.
- Fruit hulls have yielded bryononic acid and bryonolic acid terpenoids, meso-inositol and dimethyl mucate polyalcohol.
- Stem bark studies have yielded triterpenoids such as, katonic acid, indicic acid, koetjapic acid, 3-oxo-12-oleanen-29-oic acid, alloaromadendrene, caryophyllene oxide, spathulenol], bryononic acid, secobryononic acid, secoisobryononic acid, 20-epikoetjapic acid, 3-epikatonic acid and sandorinic acid A, B and C.
- Ethyl acetate extract of leaves yielded two new limonoids: [2α-(2-methylbutanoyl)oxy]sandoricin (1) and [2α-(2-methylpropanoyl)oxy]sandoricin (2). (18)
- Hexane extract of stem bark yielded an oleane-type triterpenoid, briononic acid. (see study below) (19)
Properties
Roots is aromatic, carminative, antispasmodic, astringent, stomachic, and tonic.
Fruit considered astringent.

Parts used
Roots, bark, and leaves.



Uses
Nutrition / Edibility
- High in carbohydrates, fair in iron, but low in calcium.
- Fair source of vitamin B.
- Santol makes a delicious preserve - peeled, quartered, and cooked in syrup.
Folkloric
- Fresh leaves applied to the skin are sudorific.
- Used by the Ifugaos for diarrhea.
- Decoction or infusion of leaves used for baths to reduce fever.
- Also, used for diarrhea and as a tonic after childbirth.
- Bark poultice used for ringworm.
- Bitter roots, bruised with vinegar and water, is a carminative; used for diarrhea and dysentery.
- Pounded barks applied to ringworm.
- Leaves used for skin infections and rashes.
- Roots used as tonic.
- Roots used in Malayan medicine as preventive after childbirth and as a general tonic.
- In Malaysia, aqueous extract of the bark is consumed as a tonic after childbirth.
- In Indonesia, bark decoction used to treat leucorrhea and colic.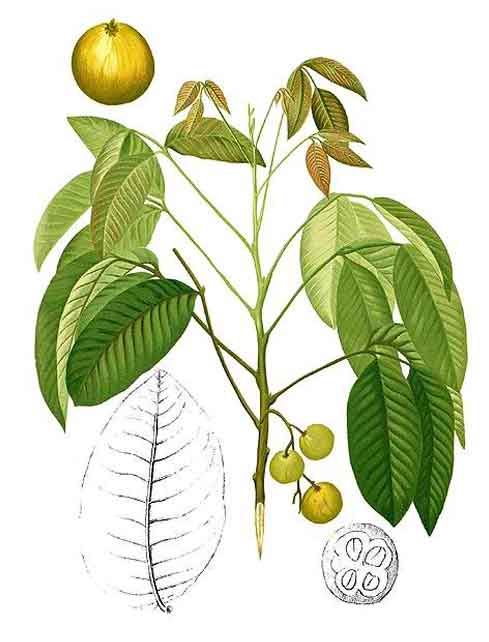 Studies
• Ichthyotoxic and Anticarcinogenic Effects: Two ichthyotoxic triterpenoids were isolated with non-toxic katonic acid which showed remarkable inhibitory effect on Epstein-Barr virus early antigen activation. The triterpenoid koetjapic acid showed promising chemopreventive possibility. (1)
• Anti-cancer: Study isolated a new ring-A secotriterpene, koetjapic acid, and five known compounds. Two compounds exhibited significant cytotoxic activity against cultured human cancer cells. (2)
• Anti-inflammatory: Stem extract study yielded 3-oxo-12-oleanen-29-oic acid and katonic acid which showed anti-inflammatory activity equivalent to indomethacin. (3)
• DNA Polymerase B Inhibition: Study isolated three compounds. Compounds 1 and 2 with derived derivatives 11, 12, and 13 showed activity against DNA polymerase B. (4)
• Termite Repellent: Although the research product was not quick in killing termites. it was as good as the commercial product in repelling them. It also showed to be environmentally friendly, organic, lacking unpleasant odors and containing no dangerous chemicals. (6)
• Antiangiogenic / Koetjapic Acid: Study isolated koetjapic acid, a seco-A-ring oleanene triterpene. Results suggest the non-cytotoxic compound, KA, may be a potent antiangiogenic agent; its activity. (9)
• Breast Cancer / Cytotoxic / Apoptotic: A n-hexane extract showed dose-dependent cytotoxic and apoptotic activities on all breast cancer cell lines. Study provides evidence for the presence of an effective anticancer agent in the stem bark of S. koetjape. (10)
• Topical Anti-Inflammatory Effect / Stem Extracts: Anti-inflammatory effect of stem extracts was investigated on topical administration in a TPA-induced mouse ear inflammation model. Fractionation of active fractions isolated 3-oxo-12-oleanen-29-oic acid and katonic acid as the biotic principles responsible for the anti-inflammatory activity. The inhibition effect was almost equivalent to indomethacin. (13)
• Cytotoxic / Anti-Angiogenic: An n-hexane extract of stem bark of S. koetjape was investigated for cytotoxic and anti-angiogenic properties in an invitro cell proliferation assay. In a rat aorta ring assay, study showed inhibition of outgrowth of blood vessels from rat aorta rings. Extract also showed dose-dependent growth inhibition of all tested cell lines. At 50 µg mL, there was potent induction of apoptotic cell death of HCT-116 colon cancer cell line by inducing caspases activity. Results showed anti-angiogenic and apoptotic properties on colon cancer cell line. (14)
• Breast Cancer / Cytotoxic / Apoptotic / Stem Bark: Study evaluated cytotoxic and apoptotic properties of stem bark in an invitro cell proliferation assay on three breast cancer cell lines and one normal cell line. The n-hexane extract exhibited dose-dependent growth inhibition of all tested cell lines. At 100 µg m, there was induced apoptotic cell death by inducing activity of effector caspases. Results suggest S. koetjape is a good candidate for further research targeting cancer treatment. (15)
• Saintlier Acid / Cytotoxic Tritpenoids / Human Promyelocytic Leukemia HL-60 Cells: Study isolated a new ring A-seco triterpenoid, sentulic acid, along with a known oleanane-type triterpenoid, 3-oxoolean-12-en-27-oic acid. Cytotoxic activity was studied on human promyelocytic leukemia HL-60 cells. Results showed the compound were able to induce cytotoxicity through apoptosis. (16)
• Biosorption / Lead and Cadmium: In a study comparing biosorbent capacity of peel wastes of S. koetjape, A. comosus and C. nobilis for removal of lead and cadmium in contaminated tap water from Manila, S. koetjape showed the highest biosorption efficiency for lead and cadmium at 64.02% and 78.94$ respectively. (17)
• Briononic Acid: A hexane extract of stem bark yielded an oleane-type triterpenoid, briononic acid. Study suggests it originated from β-amyrine undergoing enzymatic hydrogenation reaction at C-12 followed by rearrangement process. (See constituents above) (19)
• Bioinsecticide Effect: Study evaluated stem bark extracts of five Meliaceious plants in Indonesia against 3rd instar larvae of armyworm, Spodoptera litura. The maximum bioinsecticide effect was seen with Sandoricum koetjape and suggests promise as a botanical insecticide. (20)

Availability
Wild-crafted.
Cultivated for its fruit.