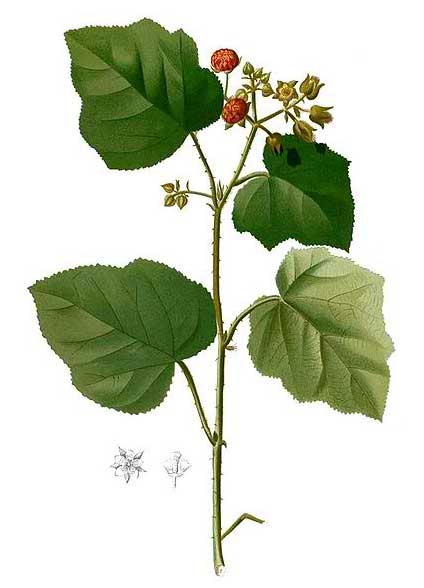 Botany
Sapinit is a climbing, straggling, prickly shrub, reaching a height of 2 to 3 meters, with branches covered by wooly hairs. Stems, buds, petioles, and lower surfaces of the leaves are velvety. Leaves are thin, flat, usually 3- to 5-lobed, deeply cordate at the base, broadly ovate, and 5 to 15 centimeters wide. Upper surface is hairy and prominently reticulate when dry. Flowers are about 2 centimeters across, usually in small clusters, and borne in racemes at the axils of leaves and at the ends of branches. Calyx lobes are ovate to lanceolate, entire or pectinate. Petals are obovate, white, and shorter than the calyx segments. Berries are bright red, about 1 centimeter in diameter, succulent, slightly acid, with numerous carpels, and hairy receptacle.
Distribution
- In forests at medium and higher altitudes, and in very wet regions at low altitudes, from nothern Luzon to Mindanao and Palawan.
- Also occurs in India, through Malaya to Australia and Fiji.

Constituents
- Bark contains 10 percent tannin and considered astringent.
- Fruit contains malic and citric acids, pectin and albumin.

Properties
Leaves considered a emmenagogue and abortifacient.
Root is astringent.

Parts used
Roots, leaves, and fruit.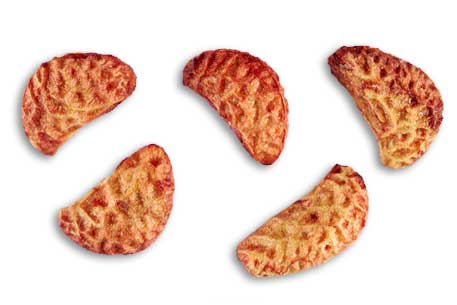 Uses
Edibility
Fruit is edible with sour flavor; used in jams and sauces.
Folkloric
- Root, leaves, and fruit used for diarrhea.
- Malayans use the fruit as remedy for noctural micturition in children.
- Leaves considered a powerful emmenagogue and abortifacient.
- Root decoction used for dysentery.
- In India, decoction of tender leaves of R. moluccanus, together with Psidium guajava, Perilla ocimoides and Vernonia volkameriaefolia and Urena lobota root prepared in water administered in an empty stomach once daily for 2-3 days for abdominal pain.
- In Papua, New Guinea, heated leaves are applied to the abdomen for abdominal pain.
Others
- Dyes: Fruit yields a purple dye.

Availability
Wild-crafted.