B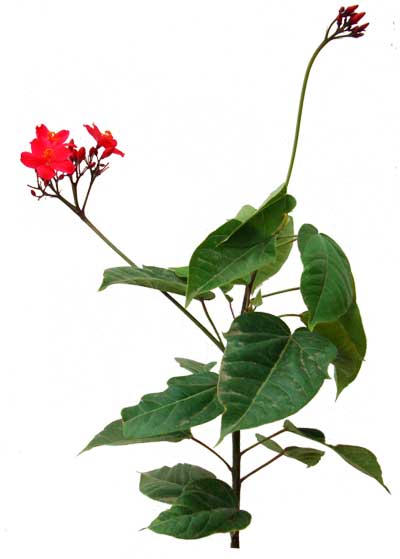 otany
Jatropha pandurifolia is a medium-sized branching shrub, growing up to 3 meters high. Leaves are ovate to oblong, up to 10 centimeters long and 7 centimeters wide, fiddle-shaped or with 3 sharply pointed lobes. Blade is dark green above and light green below, with petioles up to 5 centimeters long, with entire margins. Flowers are red, branching at the terminal part and borne by a peduncle up to 12 centimeters long.
Distribution
- Introduced to the Philippines in the 50s, now widely spread.
- Native to the West Indies.
Constituents
- Diterpene constituents consist of macrocyclic diterpenes jatrophone, jatrophatrione, jatropholone A-B, riolozatrione, curcusones A-D, rhamnofolane, lathyrane.
- Extracts of leaves and stems yielded tannin, terpenoids, steroids, flavonoids and saponins.
- Seed oil of J. pandurifolia yielded 38.40% oil content. Methyl ester analysis showed saturated and unsaturated fatty acids in varying proportions along with hydroxy fatty acid up to 8.6%. (11)
- Methanolic extract of stem bark of J. pandurifolia isolated seven compounds viz. 3-O-acetylaleuritolic acid (1), jatropholone A (2), jatropholone B (3), 2α-hydroxyjatropholone (4), 2β- ydroxyljatropholone (5), scopoletin (6) and aleuritolic acid 3-p-hydroxycinnamate (7). (12)
Properties
- Considered purgative, styptic, emetic.
- Latex considered toxic.
- Leaves, if accidentally chewed can cause stomachalgia and can be purgative.

Uses
Folkloric
- No known folkloric medicinal use in the Philippines.
- Elsewhere, used in the treatment of warts, tumors, rheumatism, herpes, pruritus, toothaches, scabies, eczema and ringworm.

Studies
• Antimicrobial / Cytotoxic: Study on the n-hexane extract of the plant showed significant inhibitory activity against tested microorganisms. It also showed significant cytotoxicity when subjected to brine shrimp lethality assay. (1)
• Free Radical Scavenging / Antioxidant: Five indigenous plants, including J pandurifolia, were investigated for their antioxidant activity. All the extractives were shown to possess significant DPPH radical scavenging activity. Significant antioxidant activity was noticed by the chloroform soluble fraction of the methanolic extract of J pandurifolia, and moderate antioxidant activity from the methanolic extract of the leaves of JP. (2)
• Integerrimene: Study isolated integerrimene, a possible biogenetic precursor of the rhamnofolane diterpenes and a new rhamnofolane endoperoxide 2-epicaniojane from the roots of J. integerrima roots. (3)
• Cyclic Peptides / Cytotoxic Activity / Latex: Study isolated two new cyclopeptides: integerrima cyclopeptide 4 and integerrima cyclopeptide B from fractionation of ethyl acetate extract of latex. The two cyclopeptides showed significant cytotoxic activity in vitro against KB tumor cells with IC values of 0.46 ±0.04 and 0.66 ±0.08, respectively. (6)
• Cyclic Heptapeptides / Latex / Antiproliferative: Study isolated two new cyclic heptapeptides, integerrimides A and B, from the latex of Jatropha integerrima. Both peptides significantly inhibited neurite outgrowth in neuronal cell culture. They also partially inhibited proliferation of human IPC-298 melanoma cells as well as migration of human Capan II pancreatic carcinoma cells. (7)
• Enantiomeric Neolignans and Sesquineolignans / Inhibition of NO Production: Study of trunk of JI isolated two pairs of new sesquineolignan enantiomers, (±)-jatrointelignans A and B (1a/1b and 2a/2b), one pair of new neolignan enantiomers, (±)-jatrointelignan D (4a/4b), and two new neolignans, (+)-jatrointelignan C (3a), and (+)-schisphenlignan I (5a) together with seven known analogues. Compounds 5a, 6a, and 4b exhibited pronounced inhibition on NO production. (8)
• Antimicrobial: In a study of successive extracts of roots of three jatropha species viz. J. curcas, J. gossypifolia, and J. integerrima for antibacterial activity against S. aureus, P. aeruginosa, M. luteus, E. coli and antifungal activity against A. niger and C. albicans, all the extracts showed significant antimicrobial activity with MIC range of 0.78 to 12.5 mg/ml extract. (9)
• Catalase Activity / Monitoring of Environmental Pollution: Study assessed the activity of detoxifying peroxide enzymes as indicators of local air pollution. Results showed that catalase activity is more effective in stress conditions in J. integerrima and C. surattensis and could be a way to estimate atmospheric pollution in tropical countries. (10)
Availability
Wild-crafted.