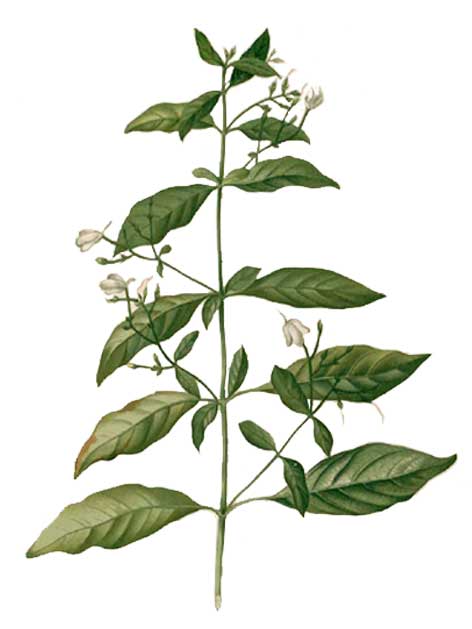 Botany
Tagak-tagak is a slender, erect, branched, somewhat hairy shrub, up to 1 to 2 meters high. Leaves are oblong, 4 to 10 centimeters long, narrowed and pointed at both ends. Inflorescence is a spreading, leafy, hairy panicle with flowers usually in clusters. Calyx is green, hairy, and about 5 millimeters long. Corolla-tube is greenish, slender, cylindric, about 2 centimeters long. Corolla has two spreading lobes; the upper lip is white, erect, oblong and lanceolate, 2-toothed at the apex, about 3 millimeters in length and width; lower lip is broadly ovate, 11 to 13 millimeters long and wide, 3-lobed, white, with a few, minute, brownish dots near the base. Fruit is a club-shaped capsule containing 4 seeds.
Distribution
- In Rizal, Cavite, and Laguna Provinces in Luzon.
- In thickets, hedges, and waste places, in and about towns.
- Introduced, now common.
- Also occurs in India to Malaya.
Constituents
- Roots contain an active principle, rhinacanthin.
- Study yielded rhinacanthin A and B and known lupeol, B-sitosterol, stigmasterol as well as glucosides of B-sitosterol and stigmasterol from the roots.
Properties
- Rhinacanthin isolated from the roots resemble chrysophanic and frangulic acids in its antiseptic and antiparasitic properties.
- Considered aphrodisiac, wound healing, antidotal.

Parts used
Roots and leaves.

Uses
Folkloric
- Sap or decoction of roots and leaves used in obstinate forms of dermatosis, especially dhobie's itch (buni sa siñgit).
- In Thailand, roots and leaves, in an alcohol tincture or vinegar preparation, used for the treatment of certain forms of ringworm.
- Seeds also efficacious for ringworm.
- Malays mix the juice of roots and leaves with benzoin and sulfur to use for ringworm.
- Dutch Indies apply the leaves on prickly heat, scurf, etc.
- In the Moluccas, young shoots, crushed in vinegar, applied the skin complaint called "cascado."
- In India, fresh roots and leaves, bruised and mixed with lime juice, used as a remedy for ringworm and other skin affections. In some places, roots also used as antidote for snake bites.
Seeds also used for ringworm. Root-bark also used for dhobie's itch.
In Pakistan, used as aphrodisiac – the roots boiled in milk by Hindu practitioners.
- In Kerala, used to treat liver diseases. Leaves and roots used for snake bites.
- Used for skin diseases, peptic ulcer, helminthiasis, scurvy, inflammation and obesity.
- Used for herpes and viral infections.

Studies
• Hepatoprotective: Study of herbal ethanol extracts of I coccinea, R nasuta and s ciliata on aflatoxin BI (AFBI)-intoxicated livers of albino male Wistar rats showed significant hepatoprotective activity against toxin-induced liver damage as evidenced by significant lowering of the activity of serum enzymes and enhanced hepatic reduced GSH status.
• Antitumor Activity: Study previously isolated three main naphthoquinone esters - rhinacanthins C, N, and Q - from the roots of R nasutus that induced apoptosis of human cervical carcinoma HeLaS3 cells. Study demonstrated that rhinacanthin-N suppressed tumor growth in vivo, and suggested that liposomes are useful for preparing injectable formulation of hydrophobic drugs.
• Mosquitocidal Activity: Tablet formulations made from the methanol extract of dried root powder of R nasutus showed it has potential use to control mosquito vectors and be part of a mosquito control program.
• Antiproliferative / Rhinacanthin C: The ethanol extract of root and aqueous extract of leaves of RN and the active moiety rhinacanthin C was assessed in vitro and in vivo on several cancer cell lines. Results showed rhinacanthin C exhibited in vitro antiproliferative activity, comparable to or slightly weaker than 5FU. Both extracts showed in vivo antiproliferative activity .
• Hepatoprotective Activity: Study of root extracts in Wistar rats with ethanol-induced liver damage showed a significant reduction of enzymes and lipids indicating a reversal of hepatotoxicity. There was histological confirmation. Mechanism could be the ability of RN to regenerate and stabilize liver cells, and reduce the leakage of marker enzymes.
• Wound Healing: Study of roots of RN in an incision wound model showed potent wound healing promoting activity. Phytochemical screening yielded rhinacanthin and ß- sitosterol.
Availability
Wild-crafted.