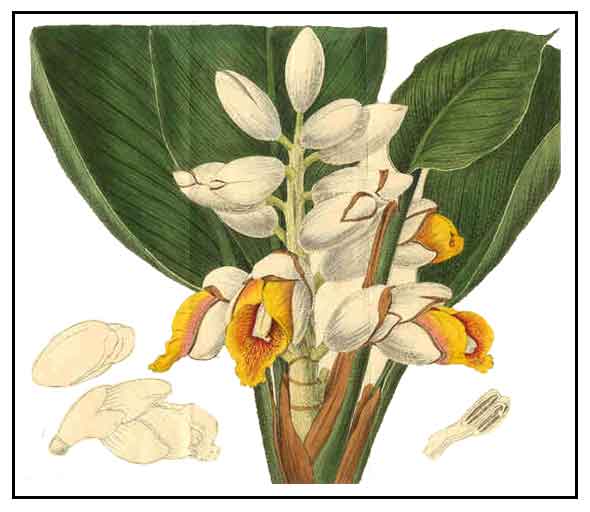 Botany
Tagbak-babae is a herbaceous plant growing to about 2 meters tall. Leaves are oblong, 30 to 60 centimeters long, 10 to 13 centimeters wide, smooth on both surfaces except on the edges and at the base where it is hairy. Bracts are large spathaceous, about 2 centimeters long. Calyx is spathaceous, urn-shaped, cleft on one side, irregularly toothed, and as long as the corolla tube, 10 to 13 millimeters long. Corolla tube is broad, with the lobes, white, silky, broad, oblong, about 2 centimeters in length and 7 millimeters wide. Lip is about 3 centimeters long, broad, and yellow with purple spots.
Distribution
- Common in primary forests at low and medium altitudes throughout the Philippines in most or all islands and provinces.
- Native of Indonesia and Malaysia.
- Cultivated in India and China.
Constituents
- Phytochemical screening of leaf extract yielded alkaloids, flavonoids, steroids, carbohydrates, tannins, saponins, and glycosides.
- Essential oil of leaves yielded 47 constituents, the majority of which were terpenoids. The oil was dominated by a-phellandrene (31.80%), eucalyptol (13.76%), O-cymene (11.45%), b-pinene (11.34%) and limonene (6.44%). (8)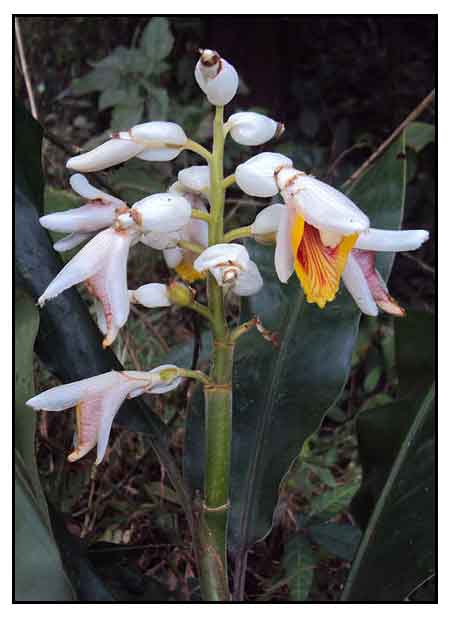 Parts used
Fruit, seeds.

Uses
Folkloric
- Decoction of fruit or crushed seeds used in cases of gastralgia with tympanitisa.
- Decoction also used as puerperal bath and for fevers.
- In India past of tuber with hot water applied on sores in the mornings and evenings until cured. (7)

Studies
• Phytochemicals: Study isolated one kavalactone and four labdane-type diterpenoids, one chacone and two flavanones from the rhizomes of A. malaccensis.(1)
• Antimicrobial / Antioxidant: In a study screening Zingiberaceae extracts for antimicrobial and antioxidant activities, M. malaccensis showed significant antimicrobial activity. All extracts showed strong antioxidant activity comparable to or higher than that of a-tocopherol.(2)
• Leaf Extract / Antioxidant: Study evaluated a methanol leaf extract of A. malaccensis for antioxidant activity using various assays. The total phenolic content of the methanol extract was found to be 76-25 mg gallic acid equivalent/ g of extract. Results suggest a potential source of natural antioxidants.(5)
• Rhizomes / Essential Oils: Study of the essential oils of rhizomes yielded 20 compounds representing 99.7% of the rhizome oil; the major constituent was methyl (E)-cinnamate (78.2%). (6)
Availability
Wild-crafted.
Seeds and extracts in the cybermarket.