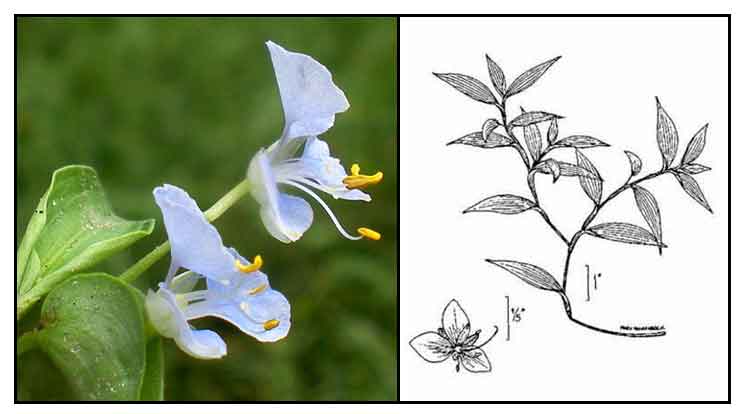 Botany
Alikbangon is a mucilaginous, slender, creeping or ascending branched perennial herb, usually pubescent. Stems root at the nodes, the ultimate branches ascending. Leaves are green, oblong-lanceolate, 3 to 7 centimeters long, 1 to 2 centimeters wide, pointed at both ends. Inflorescence is axillary and peduncled. Flowers are cymose, enclosed in a complicate leaf-like spathe, with free margins. Cymes are usually 2 in each spathe, and are few-flowered. Inner petals are larger, blue, 6 to 7 millimeters long, and the outer ones much smaller, pale or nearly white.
D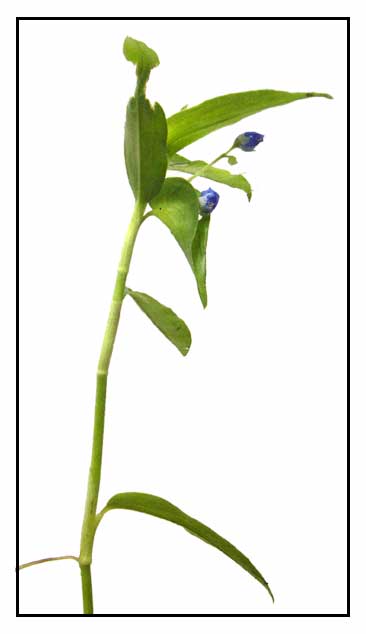 istribution
- Common throughout the Philippines in open grasslands and waste places in settled areas at low and medium altitudes.
- Pantropic.
Properties
- Tasteless, cooling natured.
- Febrifuge, rubefacient, diuretic.
- Good blood coagulant, antifebrile and antidote, tonic for the heart.
- Antifungal, antibacterial.
Parts utilized
Entire plant.
Uses
Edibility
- In India young stems are steamed and eaten as vegetables.
- Young leaves used in fresh salads or boiled with butter.
- Small blue flowers and tender flowering tops can be steamed or used as salad green.
Folkloric
· For all kinds of fever symptoms due to infection: get drug (dried preparation 9 to 15 gms, 30 to 60 gms fresh material) boil to a concentrated decoction and drink.
· Bruised plant applied to burns, itches and boils.
· Mumps: get fresh plant, crush and squeeze out the juice, then drink.
· For poisonous snake bites: get fresh plant, crush, squeeze out the juice, then drink. This drug must be accompanied by an antidote preparation applied on the bite.
· Used for difficult urination, acute gastroenteritis, erysipelas, laryngopharyngitis, tonsillitis, colds.
· Used for external wound bleeding.
· Used as diuretic.
· Entire plant in decoction is used as an emollient, eye-wash and is also employed to combat painful discharge of urine.
· Dosage: for 4 to 8, use 30 to 60 gms dried material or 90 to 120 gms fresh material in decoction; pounded fresh material may be applied externally as a poultice.
· In the Gold Coast, the leaves are pounded with the seeds of Leea guineensis and Piper nigrum, made into a poultice and wrapped in a heated plantain leaf and applied to relieve swellings of the groin.
· In Nigeria, taken as aperient. Decoction used for fevers. Leaf-infusion used as eyewash. Eye lotion made from plant used for eye complaints. Root decoction used for gonorrhea and dysmenorrhea.
· In Sierra Leone, plant used as wound dressing after circumcision.
· In China, decoction of whole plants used for defervescence and detoxification, for leucorrhea and health protection.
· In Congo leaf-sap used for abscesses, buboes and headache. Leaves believed to be aphrodisiac.
· Carribean Indians have used the plant in medicinal baths and as tea to ward off influenza.
· In Mexico used for treatment of conjunctivitis, dermatitis, and dysmenorrhea.
· In Paraguay used for enteritis, gonorrhea and infertility treatments.
· In Hawaii, plant used as blood purifier.
· In India latex, leaf, and shoot used to stop bleeding of wounds and cuts.
· In Ecuador and Peru decoction of tiny blue flowers used as tea for relief of headaches.
· In the Guianas juice from the whole plant used in a decoction against warts. Infusion used against hair loss, fever and biliousness. Juice drunk for high blood pressure. In NW Guyana, used for biliousness, hair loss, kidney disease and for cleansing of the wombs and tubes.
Others
• Dye: Petal juice used as dye for painting.
• Fodder: In some parts of Africa, India and Asia, used as fodder for small livestock. In Maritius, contributes to the diet of dairy cows.

Studies
· Antioxidant / Antifungal: Commelina diffusa ais used as a wound -healing agent in traditional Ghana medicine. A study on the methanol extract of Commelina diffusa showed antioxidant and antifungal (against Tricophyton species) activity confirming its wound healing benefits.
· Antioxidant / Antifungal / Wound Healing: Study of methanol extracts showed antioxidant activity and antifungal activity against Tricophyton species. The use of plants for wound healing may be based on antioxidant and antiseptic effects of its constituents.
· Weed as Fodder Crop: Study evaluated the potential of Commelina diffusa as a ruminant food, evaluated in terms of chemical composition and rumen degradation characteristics. Results showed that from a nutritional point of view, C diffusa compares well with many commonly used fodder crops and can be used as a protein source for ruminants on smallholder farms.

Availability
Wild-crafted.