Gen info
Pomegranate has been in traditional medicinal use for more than 3000 years. Ancient and mystical, it has been written about in the Old Testament of the Bible, the Jewish Torah, and the Babylonian Talmud as a sacred fruit with powers that bestow fertility, abundance, and good luck. It is also part of the iconography of rituals, art, and mythology - the personal emblem of the Roman Emperor, Maximilian, the symbol and heraldic device of the ancient city of Granada in Spain.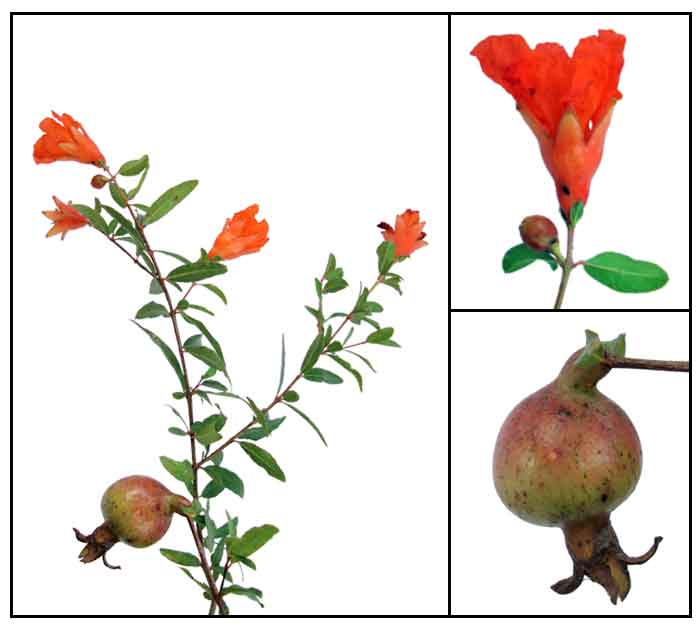 Botany
Granada is a shrub growing 2 to 3 meters high. Branchlets are slender and 4-angled. Leaves are oblong-lanceolate to oblong-elliptic; 4 to 6 centimeters long, short-stalked, and pointed at both ends. Flowers are red and showy, usually with six segments in the calyx which are 2.5 to 3 centimeters long. Petals are obovate, about 2 centimeters long. Stamens are numerous. Fruit is rounded, reddish-yellow or purplish, 7 to 10 centimeters in diameter. Rind is thin, tough, and brittle. Fruit contains numerous seeds, each seed surrounded by a watery, translucent, flavorful pinkish-red pulp.

Distribution
- Garden plant in the Philippines.
- Nowhere spontaneous.
- Native of southwestern Asia.
- Has been introduced in all tropical countries.
Constituents
- Fruit is rich in vitamin C; a good source of iron.
- Study yielded ellagic acid ellagitannins (including punicalagins), punicic acid, flavonoids, anthocyanidins, anthocyanins, estrogenic flavonols and flavones.
- Pomegranate juice yields anthocyanins, glucose, ascorbic acid, ellagic acid, gallic acid, caffeic acid, catechin, quercetin, rutin, minerals, and amino acids.
- Seed oil yields 95% punicic acid, pluellagic acid, fatty acids and sterols.
- Pericarp yields phenolic punicalagins, gallic acid, other fatty acids, catechin, EGCG, quercetin, rutin, other flavanoids, flavones, flavonones, anthocyanins.
- Leaves yield tannins (punicalin and punicafolin) and flavone glycosides, including luteolin and apigenin.
- Bark yields four alkaloids: pelletierine, isopelletierine, methyl-pelletierine, and pseudo-pelletierine; roots and bark yield ellagitannins (punicalin and punicalagin) and piperidine alkaloids.
- Flowers yield gallic acid, ursolic acid, triterpenoids, including maslinic and asiatic acid.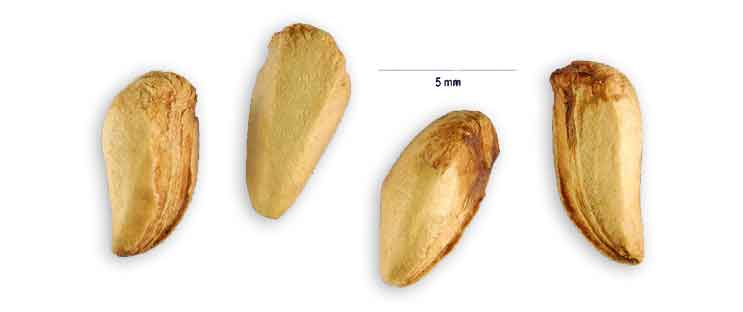 Properties
- In Indian traditional medicine, considered astringent, anthelmintic, aphrodisiac, laxative, diuretic, stomachic, cardiotonic and refrigerant.
- In Iran, flowers used as astringent, hemostatic, antibacterial, antifungal, antiviral.
- Pelletierine is considered anti-taeniacidal; isopelletierine, antihelmintic.
- Rind of the fruit is astringent.
- Seeds are stomachic; pulp is cardiacal and stomachic.
- Leaves, seeds, bark and roots considered hypotensive, antispasmodic and anthelmintic.
- Bark is considered antibacterial, antiviral and astringent.
- Seeds are demulcent and stomachic.

Parts used
Roots, flowers, seeds and fruit rinds.

Uses
Edibility / Nutritional
Fruit contains vitamin C, citric and malic acids. Eaten green as boiled vegetable; ripe, iced and sugared.
Folkloric
- Decoction of root bark used for tapeworm.
- Decoction of tender leaves used as gargle for buccal afflictions.
- Decoction of roots used for tuberculosis, chronic debility, chronic feverishness.
- Decoction of leaves used as eyewash.
- Powdered flower buds used for bronchitis.
-Decoction of juice of the flower with equal parts of Cynodon dactylon used to stop epistaxis and as gargle.
Infusion of flowers used as vermifuge.
- The bark (alkaloids) used for tapeworms.
- Rind of the fruit and flowers, combined with aromatics such as cloves, cinnamon, coriander or pepper, are used as astringent in bowel affections not associated with tenesmus.
- Decoction of the dried rind of the fruit used for stomach pains and dysentery; infusion used for colitis.
- Juice believed to be beneficial for leprosy.
- Bark, leaves and immature fruit (tannins) used as astringents for diarrhea, dysentery and hemorrhages.
- Dried pulverized flower buds used for bronchitis.
- In India, rind of fruit used for diarrhea.
- Juice of fresh fruit used for dyspepsia and as a cooling and thirst-quenching drink for fevers.
- The Chinese and Annamites use the rind of the fruit and root bark as vermifuge.
- In Mexico, decoction of flowers used a gargle for throat inflammation.
- In Indian traditional medicine, use for diarrhea.
- In Myanmar, decoction of dried bark of stem and root used as taeniafuge.
- In Iran, flowers used as remedy for cut wounds, bronchitis, diarrhea, digestive problems, male sex power reconstitution. In Unani medicine, used for diabetes.
- In China, flowers used for premature graying of hair in young men.
Others
Ink prepared from fruit rind.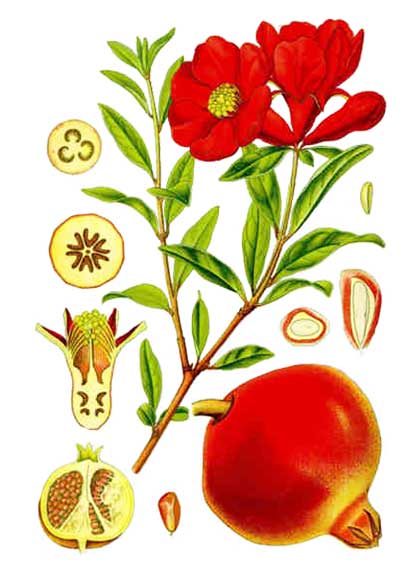 Studies
• Therapeutic Potentials: Numerous in vitro, animal, and clinical trials have shown pomegranate to be a potent antioxidant, superior to red wine and equal to or better than green tea. It has also shown anticarcinogenic, anti-inflammatory, antimicrobial properties, with beneficial effects in various disease processes such as Alzheimer's, osteoarthritis, neonatal brain injury, male infertility.
• Antibacterial Activity: Extracts exhibited antimicrobial activity against all organisms except P aeruginosa. Study suggests the potential of bioactive compounds to be developed from P. granatum pericarp for use in treatment of GIT bacterial infection.
• Antifungal: Use of Punica granatum as an antifungal agent against candidosis associated with denture stomatitis: Study concludes that the extract of P. granatum may be useful as a topical antifungal for the treatment of candidiasis associated with denture stomatitis
• Phytochemicals / Anti-E. Coli: Inhibitory Effects of Active Compounds from Punica granatum on Verocytotoxin Production by Enterohemorrhagic Escherichia coli 0157:H7:. Phytochemical screening yielded sterols, flavonoids, triterpenes, phenols and tannins. Its high activity The study showed high activity against all strains of E. coli.
• Antidiarrheal: Methanol extract of P granatum seed extract showed significant inhibitory activity against castor-oil induced diarrhea and PGE2 induced enteropooling in rats. Results establish the efficacy of PG seed extract as an antidiarrheal agent.
• Antiviral: Study of aqueous extracts of the whole fruits have shown activity against the influenza virus.
• Analgesic Activity: Flower extracts of P. granatum showed significant analgesic activity.
• Antibacterial Activity: In a study of 21 plants extracts from five Thai medicinal plants, tested against Staph aureus and E col;i, the ethanolic extract of P granatum possessed the most outstanding in vitro antibacterial activity.
• Antibacterial / Multi-Drug Resistant Salmonella typhi: In a study of 54 plant methanol and aqueous extracts on activity against multi-drug resistant Salmonella typhi, P granatum methanol extract was one of those that strong antibacterial activity.
• Antioxidant: In vitro assay showed the pomegranate juice and seed extract to have 2-3 times the antioxidant capacity of either red wine or green tea. Extracts have been shown to scavenge free radicals and decrease macrophage oxidative stress and lipid peroxidation in animals.
• Hepatoprotective: Study evaluated the hepatoprotective effect of pomegranate peel extract against the toxic effects of CCl4. Histopath studies supported the protective effects of the methanolic extract of pomegranate peel by restoring the normal hepatic architecture.
• Anticarcinogenic: (1) In vitro assay using three prostate cancer cell lines demonstrated the extracts of juice, seed oil and peel to significantly inhibit prostate cancer cell invasiveness and proliferation, cause cell cycle disruption, induce apoptosis and inhibit tumor growth. (2) Fruit extract has shown inhibition of prostate cancer cell growth, inducing apoptosis of several prostate cancer cell lines, suppress invasive potential and decrease proliferation of prostate cancer cells.
• Anti-Inflammatory: (1) Cold pressed pomegranate seed oil have been shown to inhibit both COX and lipooxygenase enzymes in vitro. (2) Study showed evidence of the bioavailability and bioactivity of compounds in pomegranate fruit after oral ingestion. Results suggest that PFE-derived bioavailable compounds may exert anti-inflammatory effect by inhibiting inflammatory cytokine-induced production of PGE-2 and NO in vivo.
• Toxicity / Safety Studies: Toxic effects of P granatum fruit extract only occurred at higher doses than those effective in models where the anti-viral activity has been studied or those doses used in Cuban folk medicine.
• Wound Healing: (1) Ethanolic extract of Punica granatum flowers showed significant wound healing activity when topically administered in rats. Best results of histopathological evaluation were also obtained with P granatum. (2) Study of methanolic extracts of dried pomegranate peels showed high content of phenolic compounds (44%) along with other constituents. Analysis also showed the presence of gallic acid and catechin as major components. Animals treated showed moderate to good healing depending on the concentration of the gel formulation.
• Stress Reducing: Study showed pomegranate juice to have benefits in reducing chronic stress. The study was funded by a pomegranate juice company.
• Immunomodulatory: An aqueous suspension of the fruit rind powder of Punica granatum was found to stimulate the cell-mediated and humoral components of the immune system in rabbits.
• Antioxidant / Fruit Rind Extract: Study of aqueous and alcoholic fruit rind extracts showed good antioxidant effect. Phenolic compounds, tannins, and flavonoids were the major phytochemicals in both extracts.
• Antimicrobial: A study evaluated peel extracts against three bacterial strains (S aureus, E coli, and Salmonella enteritidis) and two strains Aspergillus parasiticus strains. All extracts possessed remarkable antibacterial and antifungal activities against all tested bacterial and fungal strains.

Availability
Wild-crafted.