Botany
A climbing shrub, 5 to 6 meters high. The younger and lower surfaces of the leaves are hairy, with rusty short hairs. Leaves are borne on very short stalks, oblong-ovate to oblong-lanceolate, 8 to 16 cm long, with pointed tips and rounded or heart-shaped bases. Flowers are extra-axillary, solitary, two or three in depauperate cymes, 1.5 to 2 cm in diameter. The fruit is fleshy and red when mature.

Distribution
- In thickets in low and medium altitudes from nothern Luzon to Palawan and Mindanao.
- Also occurs in the Malaysia, Laos, Indonesia, India, Cambodia and Thailand.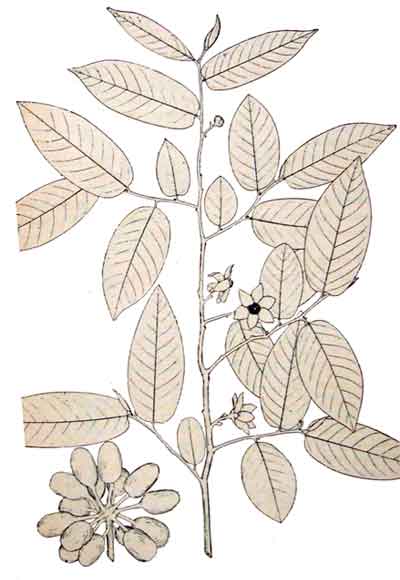 Chemical constituents
• The bark contains an alkaloid. The active principle is parasympathetic of the atropine group with activity similar to artabotrine of Marañon.
• Study yielded an oil rich in sesquiterpenes in which the principal component was alpha-humulene (50%). Also, benzyl benzoate (5%).
Parts utilized
Roots
Uses
Edibility
Fruits are edible, with a tart and sweet flavor.
Folkloric
Alcoholic tincture of the roots used as an ecbolic (promoting labor by increasing uterine contractions.
Others
Handicraft: Wood used as substitute for rattan in making furniture and handicrafts.

Studies
• Essential Oil / Sesquiterpene: Uvaria rufa yielded an oil rich in sesquiterpene, in which the principle component as [alpha]-humulene (50%). Benzyl benzoate was also present at 5%.
• Flavonoid Glycosides / Advanced Glycation End-Products Inhibition / Anti-Diabetic: Study yielded five flavonol glycosides: rutin, isoquercitrin, kaempferol 3-O-ß-galactopyranoside, astragalin, isoquercitrin-6-acetate. 2 of the compounds showed an ability to inhibit the formation of AGEs in the bovine serum albumin-glucose assay. AGEs contribute to the development and progression of diabetic complications and aging.
• Polyoxygenated Cyclohexene Derivatives: Study yielded four new polyoxygenated cyclohexene derivatives, uvarirufone A, uvarirufols A-C, along with 10 known compounds from the aerial parts of U. rufa.

Availability
Wild-crafted.