Botany
Kolintang-violeta is an erect, unarmed, branched ornamental shrub, 1 to 3 meters high. Branches are sparingly hairy. Leaves are oblong to elliptic, 4 to 10 centimeters long, pointed at the tip and somewhat hairy beneath. Flowers are borne singly or in pairs, and terminal or in the upper axils of the leaves. Bracteoles are linear. Two outer sepals are green, ovate-lanceolate, nearly 2 centimeters long, persistent, and laciniately toothed. Corolla is 6 to 7 centimeters long, slender-tubed, winged above; limb is 4 to 5 centimeters in diameter, violet or nearly white, or streaked with violet and white.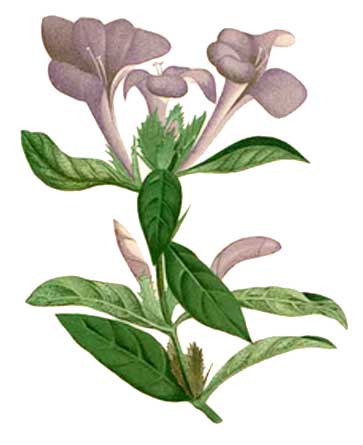 Distribution
- Widely cultivated ornamental hedge plant.
- Also occurs in India, China, and Malaya.

Constituents
Considered antibacterial.
Properties
Considered antibacterial, antidotal.
Parts used
Roots, leaves, seeds.
Uses
Folkloric
- Seeds used as antidote for snake bites.
- Roots and leaves used to reduce swellings.
- Infusion of roots and leaves used for coughs.
- In India used for treatment of cough.
- Elsewhere, used for toothaches, anemia and inflammatory disorders.
Studies
• Anti-Inflammatory: (1) Methanol extract of leaves of Barleria cristata was evaluated for anti-inflammatory activity. The effect was compared to the activity of indomethacin and cyproheptadine as reference standard. Results revealed BC possesses significant anti-inflammatory activity. (2) Study of aqueous extract of BC leaves exhibited anti-inflammatory activity with significant dose-dependent inhibition of carrageenan-induced paw edema, prostaglandin activity, vascular permeability.
• Phytochemicals / Antioxidant Activity: Phytochemical screening yielded alkaloids, flavonoids, glycosides, saponins, phenols and tannins in the ethanol and aqueous extracts of BC. The 50 % ethanol extract of leaves showed significant antioxidant activity probably from the occurrence of secondary metabolites.

Availability
Wild-crafted.