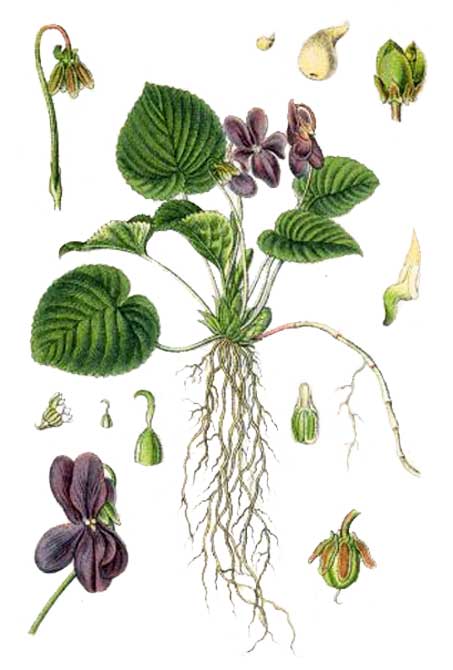 Gen info
Together with another Viola tricolor (heartease) used medicinally since ancient times. Used by the Athenians to "moderate anger." Violet garlands were worn to prevent headaches and dizziness. Heartease was once used in love potions.
Botany
An herb with stout rootstocks. Stems are short or lacking, with slender stolons. Leaves are crowded at the ends of the stems, orbicular to subreniform, 5-8 cm long, heart-shaped base, round tipped, with toothed margins. Flowers are fragrant, 1.5 to 1.8 cm. Sepals are green, about 1 cm long, petals are violet with the throat marked with white spots or lines.

Distribution
Ornamental cultivation as border plants around houses. Thrives best in Baguio and the Benguet area; not well adapted to lower altitudes.
Properties and constituents
Considered antiinflammatory, anticancer, demulcent, diuretic, emetic, expectornat, purgative.
The flowers contain a coloring matter and traces of a volatile oil, three acids, and a principle called violin. The violin is supposed to be found in all parts of the plant.
The flowers contain a glucoside. The seeds contain salicylic acid.
Contains saponins, salicylates, alkaloids, flavanoids.

Parts used
Leaves, flowers, roots.

Uses
Culinary
Young leaves and flower buds, raw or cooked.
Leaves make a good salad.
Leaves and flowers for tea.
Flowers, both decorative and edible, for salads and deserts.
Folkloric
Decoction of root is a strong emetic; in large doses, the roots and seeds are poisonous.
Poultice or compress of fresh leaves for inflammation and pruritic skin diseases.
Cancer: Decoction of leaves, 4 to 5 glasses daily; poultice of leaves externally. Infusion of leaves, syrup made from petals, or a liquid extract of fresh leaves used for cancer of the throat and tongue. In other countries, used for breast and lung cancer.
Decoction of dried flowers for fever.
Syrup of the violet is used for cough and hoarseness.
Seeds are purgative and diuretic.
Plant poultice also used for headaches, coughs, colds, bronchitis, nervousness and general debility.
Others
• Essential oil from flowers used in perfumery.
• Pigment extract from flowers used for litmus testing strips.
• Makes excellent ground cover.
Studies
• Cyclotides / Cytotoxic Activity: (1) Study isolated cyclotide cycloviolacin O2 from Violo odorata, Cyclotides belong to the largest family of naturally cyclized proteins with potent cytotoxic activity. Study showed disintegration of cell membranes of exposed human lymphoma cell lines. (2) Study isolatede three naturally occurring macrocyclic peptides (cyclotides) from two violets - V arvensis and V odorata. All three cyclotides exhibited strong dose-dependent cytotoxic activities. With its chemical and biologic stability, they present a potential pharmacologic tool as antitumor agents.
• Antitumor: Study evaluated the cytotoxic activities of three naturally occurring macrocyclic peptides (cyclotides) – varv A, varv F and cycloviolacin O2 – from two violets, V arvensis and V odorata. With a new mode of action, the cyclotides present a novel pharmacologic tool and potential antitumor agent.
• Antipyretic: Study showed significant oral antipyretic activity in rabbits with the various extracts of plants, including V odorata. More prominent activity was found in the hexane-soluble portion of the plants tested.
• Antibacterial: In a study of aqueous extracts of ten medicinal plants tested for antibacterial potential against strains of human pathogenic bacteria, Viola odorata was found to be the most effective antibacterial.
• Phytochemicals / Elemental Composition: Flowers contained an odorous principle, blue coloring matter and a glucoside. Salicylic acid, a natural aspirin, was found in the plant. Violine, an alkaloid, was found in roots, leages, flowers and seeds. Elemental analysis showed C, O, Na, Mg, Al, Si, Cl, K, Ca Fe in different parts of the plant.
• Anticancer / Chemosensitizing / Cycloviolacin O2: Cycloviolacin, a cyclotide from Viola odorata has antitumor effects and causes cell death by membrane permeabilization. The study documents several cyclotides with robust cytotoxicity that may be promising chemosensitizing agents gainst drug resistant breast cancer.

Availability
Wild-crafted.