Taxonomy
Quisumbing's compilation lists Coleus atropurpureus (badiara) and Coleus blumei (mayana) as separate species. More recent compilations list the species as synonymous. K. Heyne does not separate it from C. blumei (now Solenostemon scutellarioides).
Factoid
- There was a report of psychoactive use among the Mexican Mazatecs discovered in 1962 in connection with Gordon Wasson's research into Salvia divinorum.
- There are a large number of Coleus blumei hybrids which can be mistaken for other Coleus species.
Botany
Mayana is an erect, branched, fleshy, annual herb, about 1 meter high. Stems are purplish and 4-angled. Leaves are variously blotched or colored, usually more or less hairy, ovate, 5 to 10 centimeters long, rather coarsely toothed in the margins; and in the most common form uniformly velvety-purple. Flowers are purplish, numerous, and borne in lax, terminal, simple or branched inflorescences, 15 to 30 centimeters long. Calyx is green, and about 2.5 millimeters long, with the upper lip ovate and the lateral lobes short and ovate, the lower one being 2-cleft. Corolla is about 11 millimeters long.

Distribution
- Introduced in the Philippines.
- Cultivated for ornamental purposes.
- Popular for its incredible range of foliage colors.
- Native of Java.
- Now, a pantropic ornamental.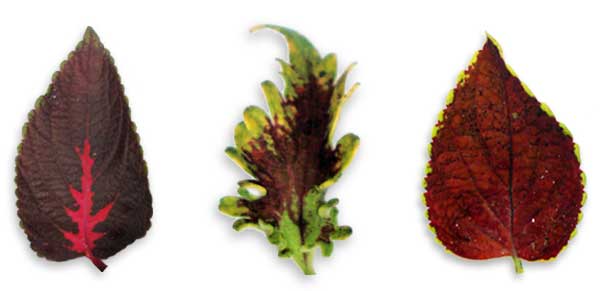 Constituents
- Volatile oils.
- Leaves reported to yield psychoactive material.
- From the leaves, study isolated a mixture of sterols and triterpenes, campesterol, a-amyrin and b-amyrin.
- Yields salvinorinlike substances of undetermined chemical structures.
- Screening yielded flavonoids, sterol and triterpenoid compounds.
- Leaves have yielded alkaloids, saponin, flavonoids, tannin, volatile oils, and quercetin. (13)
Properties
Carminative, vulnerary.

Parts used
Leaves, seeds, bark.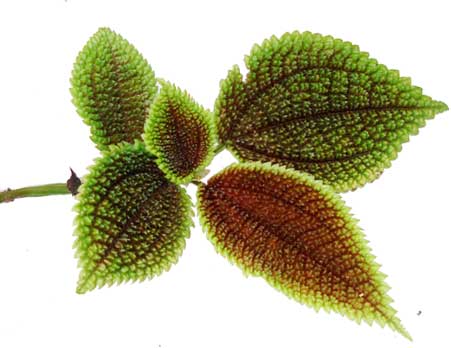 Uses
Folkloric
• In the Philippines, pounded leaves used as a cure for headaches, applied to the temples or nape of the neck. Also used for healing bruises.
• Decoction taken internally for dyspepsia and for wasting away.
• Decoction used as eyedrops for ophthalmia and conjunctivitis.
• Bruises and sprains: Crush or pound 10-12 leaves and apply over the ankles, wrists or affected areas for 30 minutes, three times daily. Use a bandage to hold the poultice in place.
• Carminative: Take decoctions of leaves.
• Mild bleeding of wounds: Wash the young leaves; crush and extract the juice. Drop a few drops of the juice directly on the wound. Apply the crushed leaves as poultice.
• Sinusitis: Heat 10-12 fresh leaves over a fire; apply while still hot over the forehead for the frontal sinuses or over the cheeks for the maxillary sinuses, twice daily.
• Dyspepsia: Decoction, taken internally.
• Reported use in Asian traditional medicine for asthma, angina, bronchitis, epilepsy, insomnia, skin rashes and various digestive problems.
• In India, fresh juice of leaf and stem is mixed with the juice of raw Citrus fruits and applied over the skin during scorpion bite. source
• In Samoa, used to treat elephantiasis.
• In Southeast Asia, used to treat dysentery and various digestive problems.
• In Vanuatu, leaves used for abortion; also for amenorrhea. Sap is used as contraceptive, and whole plant leaves used as emmenagogue. Leaves also used to facilitate lactation by heating or softening flowers in hot water and applying the preparation on the nipples. (14)
Others
• Psychoactive: The psychoactivity of the leaves is highly controversial. (1) There are reports of psychoactive effects from the smoking of leaves. Leaves are dried and soaked alone or mixed with other herbs, and the psychoactive effect achieved with as few as 3 leaves. (2) The Mazatecs consider coleus as a member of the "family" of psychoactive herbs, using coleus as a substitute for Salvia divinorum. (3) About 30% of subjects who smoked dried Mexican Coleus blumei leaves reported effects similar to smoking a small dosage of Salvia divinorum. (4) Some experience no effects with large amounts of leaves.

Studies
• Antimicrobial / Diterpenes: Diastereomeric Diterpenes from Coleus blume: Study yielded a new abietane type diterpene that showed antimicrobial activity against B subtilis, P aeruginosa and C albicans. (1)
• Antioxidant: Antioxidant Activity of Coleus Blumei, Orthosiphon Stamineus, Ocimum basilicum and Mentha arvensis from Lamiaceae Family: Study showed all methanol samples exhibited antioxidant activity and suggested that Lamiaceae plants has pharmaceutical potential for its antioxidant properties. (2)
• Forskolin / Erectile Dysfunction: Study has shown forskolin may enhance smooth muscle relaxation. Studies are needed to assess the use of coleus in the treatment of erectile dysfunction.
• Anthelmintic: Leaf extract showed high efficacy against Hymenolepsis nana (mice). (4)
• Analgesic / Anti-Inflammatory / Antimicrobial: Study isolated a mixture of sterols and triterpenes from the leaves of Coleus blumei. The isolates exhibited analgesic, anti-inflammatory and antimicrobial activities. The study also isolated campesterol, a-amyrin and b-amyrin. (5)
• Antioxidant / Phenolic Content / Minerals: Study investigated whether antioxidant, minerals and phenolic content can be extracted by boiling the leaves in water. The mineral concentration, antioxidant activity and phenolic content seemed to be highly correlated. Study concludes the leaves have a high potential value for a nutritional purpose. (9)
• Antibacterial / Antitumor: An ethyl ethanoate soluble separate of an ethanol extract showed antibacterial and anti-tumor properties.
• Quercetin / Histamine H4 Receptor Inhibitor: A Plecanthus leaves extract yielded 0.05% quercetin. Quercetin is known to have a strong affinity for mast cells and basophils. The compound was able to interact with H4R. Results suggest Plecranthus leaves extract might have potential use as histamine H4 receptor inhibitor. (13)
• Phytoremediation with Selenium Treatment / Lead Exposure: Study showed lead (Pb) is tolerated by coleus plants through allocation plasticity, activation of antioxidant systems, and improvements in particle size and mineralogical effects. C. blumei can be useful in phytoremediation of aquatic systems contaminated with Pb, especially with addition of low concentrations of selenium. (15)

Availability
Wildcrafted.