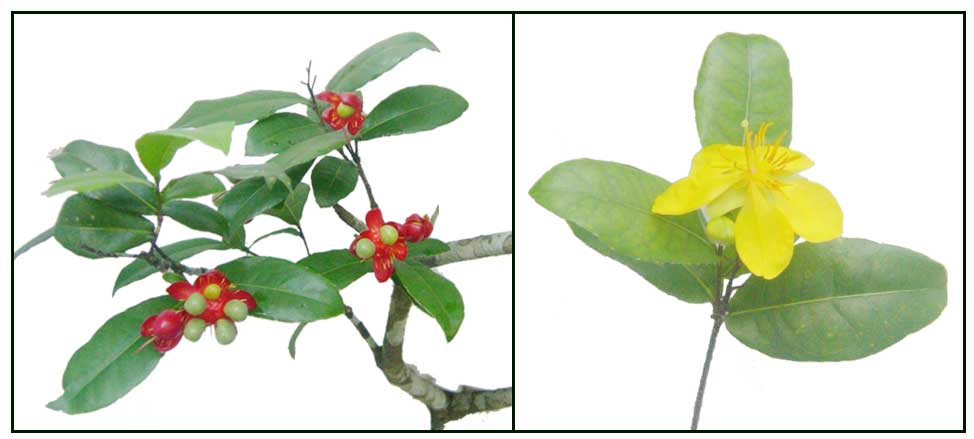 Gen info
- Ochna kirkii, from the family Ochnaceae, is one of the 86 species of Ochna shrub and trees. It is similar to Ochna serrulata, also called Mickey Mouse plant, which has smaller and serrated leaves and smaller flowers; O. kirkii, in comparison, has larger and rounder leaves and larger flowers.
- The genus name Ochna comes from the Greek work Ochne, meaning "wild pear" because of its similarity to leaves of the pear tree.
- O. kirkii was named for John Kirk (1832-1922), a naturalist, explorer and diplomat.
Botany
Ochna kirkii is a big shrub or small tree growing to a height of 3 to 4.5 meters tall. Leaves are glossy and dark green, alternate, oblong-elliptic to narrow-obovate, cuneate or heart-shaped, blunt or rounded at the tip, up to 10 centimeters long, margins are entire or undulate, usually with fine hairs. Flowers are in small panicles or short , lateral branchlets. Petals are 2.5 centimeters long, calyx is red. Fruit is are black, rounded and glossy, protruding from the swollen base of bright red calyx, resembling Mickey Mouse ears when paired.
Distribution
- Native to southeastern Africa.
- Introduced to the Philippines after WWII.
- Cultivated for its colorful flowers.
- Used as hedge plant.
Constituents
- Study of stem and root bark extracts of Ochna thomasiana yielded lophirone A, afzelone D dimethylether, calodenone, a mixture of stigmasterol and β-sitosterol and 3β-acetyl-24-ethylfriedelane. Roots yielded biflavonoids and sterols. (see study below) (3)
Parts used
Roots, branches, leaves.
Uses
Folkloric
- Decoction of roots, branches and leaves used for wound healing.
- In Thailand, root used for diarrhea and hallucination.
Studies
• Antibacterial / Stem and Root Bark: Study evaluated the biologic activities of Ochna thomasiana. Stem and root bark methanol crude extracts showed high activity against Gram-positive bacteria viz., E. coli, B. subtilis, S. aureus with 14, 15, and 20 mm zones of inhibition, respectively. (3)
Availability
- Wildcrafted.
- Cultivated.