Botanical factoid
If you stare long enough and let your mind stray, you might appreciate how both scientific and common names derived from the flower's similarity to the female external genitalia: clitorea from clitoris and pukingan, tagalog for vagina.
(Also see: Butterfly pea, Centrosema pubescens)

Botany
Pukingan is a twining herb or climbing vine with cylindrical and slender stems, sometimes up to 1 centimeter in diameter.
Leaflets are 5 to 7, elliptic to oblong, 3 to 7 centimeters in length. Stipels are small, and acicular. Flower is solitary. Calyx is green, about 1.5 centimeters long. Corolla is 3.5 to 4 centimeters long, with the standard deep blue with a white, yellowish, or pale-blue center. Pods are 5 to 10 centimeters long, flat, with 6 to 10 seeds.
Distribution
- Throughout the Philippines, in thickets in settled areas at low and medium altitudes.
- Cultivated for its conspicuous blue flowers.
- Introduced; now pantropic.
Parts utilized
Roots, leaves, flowers, seeds.
Constituents
• Studies have isolated triterpenoids, flavonol glycosides, anthocyanins and steroids.
• Root-bark contains starch, tannin and resins.
• The seeds contain a fixed oil, bitter acid resin (the active principle), tannic acid, glucose, and 6% ash. Testa of the seed is brittle and cintains a cotyledon which is full of granular starch.
• The seed is reported to contain a toxic alkaloid.
• Phytochemical screening has yielded tannins, resins, taraxerol and ternatins.
• Screening of petals of CT yielded three flavonol glycosides - kaempferol 3-O-(2″-O-α-rhamnosyl-6″-O-malonyl)-β-glucoside, quercetin 3-O-(2″-O-α-rhamnosyl-6″-O-malonyl)-β-glucoside, and myricetin 3-O-(2″,6″-di-O-α-rhamnosyl)-β-glucoside - together with 11 known flavonol glycosides.

Properties
• Roots considered laxative, diuretic, antiinflammatory and anthelmintic.
• Studies have shown pharmacologic activities: antimicrobial, antipyretic, antiinflammatory, analgesic, diuretic, anesthetic, antidiabetic, insecticidal, vascular smooth-muscle relaxing and platelet-aggregation inhibiting activity.
• The roots taken as purgative, have been reported to be toxic and narcotic, causing irritability, loss of memory or unconciousness.
• The roots and seeds are considered emetic, diuretic and emmenagogue.
• Roots considered vomitive and laxative. An alcoholic extract is used as a cathartic.
Uses
Folkloric
• In the Philippines poultices of leaves used for swollen joints.
• Infusion of leaves is used for eruptions.
• Warm leaf juice mixed with common salt is applied around the ears for earache.
• Leaves are used as poultices for swollen joints.
• Seeds are mildly laxative and purgative; also, antihelminthic.
• In India, the white flowered specie is considered superior to the blue variety.
• The roots of the blue flowered variety is used for piles. For earaches, the juice of the blue variety is used.
• The roots, in soup, used to remove phlegm in chronic bronchits and to induce nausea and vomiting when necessary. (Note toxicity above.)
• Root-bark infusion used as demulcent for bladder and urethral irritation. Alcoholic extract has been used as a cathartic.
• For hiccups, the seeds are burned for fume inhaltion; same also used for asthma.
• Also used for throat, eye infections, skin diseases.
• To hasten delivery twinning branches of the white flowered variety are wrapped around the waist.
• Root ash is used for facial care.
• Root powder is used for jaundice.
• For renal stones, the roots used with boiled rice.
• Roots and seeds used as diuretic and emmenagogue; also to induce vomiting.
• Juice of leaves mixed with green ginger used in cases of colliquative sweating in hectic fever.
• Juice of leaves mixed with common salt is applied warm around the ear for earaches, especially when accompanied by swelling of the surrounding glands.
• Root juice, applied in the nose for migraine.
• For painful boils, mix the root juice with vinegar and apply to the boils.
• A traditional Ayurveda medicine as a brain tonic, memory and intelligence enhancer, antidepressant, anti-stress,anxiolytic, sedative and anticonvulsant.
• In South Travancore, India, leaf juice taken twice daily for 6 days for scabies.source
• In West Bengal, root juice used for fevers.
Studies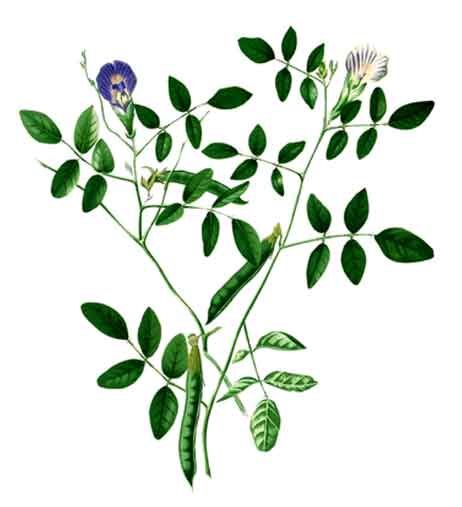 • Acetylcholine / Memory: Root extract of CT significantly increased the ACh content in rat hippocampi. ACh content in the hypocampus may be the neurochemical basis for improved memory and learning.
• Anthelmintic: Study showed the alcoholic extracts of CT with significant anthelmintic activity.
• Antipyretic: The methanol extract of CT showed dose-dependent antipyretic effect comparable to that of paracetamol.
• CNS Effects: The methanol extract study on the CNS showed it to possesses nootropic, anxiolytic, antidepressant, anticonvulsant and antistress activity.
• Cytotoxic Activity: Methanol crude extract of leaves and 3 fractions (n-hexane, di-chlormethane, methanol) demonstrated promising cytotoxic activity.
• Antifungal: Leaf extract exhibited considerable antifungal activity against filamentous fungi in a dose-dependent manner.
• Larvicidal: Screening of natural products for mosquito larvicidal activity against Aedes aegypti, Culex quinquefasciatus and Anopheles stephensi was done with three potential plant extracts. Of the three, C ternatea showed the most promising mosquito larvicidal activity. Phytochemical analysis of the seed extract showed carbohydrates, saponins, terpenoids, tannins and proteins.
• Hypoglycemic: (1) Study suggests that Clitorea ternatea leaf and flower extracts exhibit antihyperglycemic effect in rats with alloxan-induced diabetes. (2) Study suggests the C ternatea leaves and flower extracts showed antihyperglycemic and antihyperlipidemic effects and may alleviate liver and renal damage associated with alloxan-induced diabetes in rats.
• Antihistaminic Activity: Clonidine, an a-2 adrenoreceptor agonist induces dose-dependent catalepsy in mice and releases histamine from mast cells responsible for asthmatic conditions. Study results suggest antihistaminic activity of C. ternatea ethanol extract of root as shown by significant inhibition of clonidine-induced catalepsy in mice.
• Wound Healing: Study showed seed and root extracts significantly improved wound healing in excision, incision and dead-space models, bothe orally by gavage and as ointment. The activity in animal models was attributed to flavonol glycoside and phenolic compounds through alterations in the inflammatory and immune components of wound healing.
• Cytotoxicity: Study evaluating the the petroleum ether and ethanolic extracts of CT in short term in vitro cytotoxicity using Dalton's Lymphoma ascites cells showed both the extract poses significant cell cytotoxic activity. Phytochemical screening of PEE yielded steroids, triterpenoids, tannins, and saponins, while the EE yielded flavanoids.
• Antiasthmatic: Study of ethanol extract of C. ternatea roots showed antiasthmatic activity which may be due to the presence of flavonoids or saponins.
• Antidiabetic Effect: Chronic administration of plant extracts for 14 days reduced the blood glucose levels of the diabetes-induced animals compared to the diabetic control group. The antidiabetic effect was comparable to the standard antidiabetic drug Glibenclamide.


Availability
Wild-crafted.