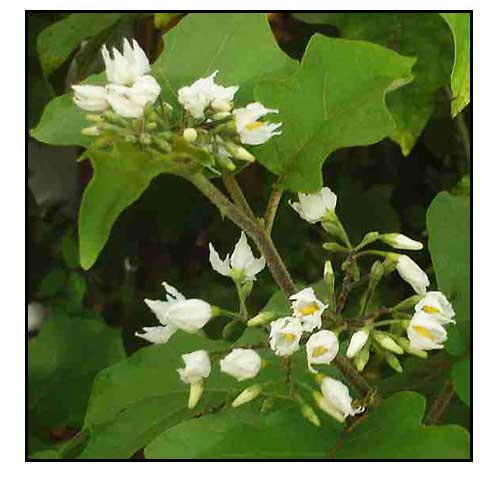 Botany
Tandang-aso is coarse, erect, branched, half-woody herb, 1 to 3 meters high. Branches are covered with short, scattered spines, and in most parts with stellate-shaped hairs. Leaves are alternate, ovate to oblong-ovate, 10 to 20 centimeters long, with sinuate-lobed margins, acuminate with inequality base. Inflorescences are lateral, usually extra-axillary racemose, often dichotomous. Flowers are many, white, about 1 centimeter long. Corolla tube is short, the limb 5-lobed. Stamens are 4, the filaments short, the anthers united into a cone. Ovary 2-celled. Fruits are globose, smooth, yellow, glabrous, about 1 centimeter in diameter.
Distribution
- Weed is found occurring in open, waste places at low and medium altitudes in most islands and provinces.
- Flowering all year round.
- Now pantropic.
Constituents
• Studies have reported steroidal sapogenin es, neochlorogenin, chlorogenin, paniculogenin, sisalagenone and torvogenin.
• Study isolated neosolaspignenin, solaspigenin, and neochlorogenin from the leaves.
• Study yielded two new spirostanol glycosides: neosolaspigenin 6-O-ß-D-quinovopyranoside and solagenin 6-O-[ß-D-xylopyranosyl-(1-3)-O-ß-D-quinovopyranoside].
• Study yielded six triterpenes: 3-O-acetyl-11alpha, 12alpha-epoxy-oleanan-28, 13beta-olide, oleanolic acid, ursolic acid, 2alpha-hydroxy-oleanolic acid, 2alpha, 3beta-dihydroxyursolic acid. (12)
• Phytochemical analysis of leaves and seeds yielded alkaloids, flavonoids, saponins, steroids, tannins, terpenoids, and phenolic compounds. GCMS analysis yielded 31 seed constituents and 28 leaf extract compounds. Major compounds were quinic acid, linoleic acid, palmitic acid, isopseudocumenol and phytol. (28)
• Methanolic extracts of leaves, flowers, and fruits yielded alkaloids, flavonoids (+++), indoles, phenols, saponins, steroids, tannins (none in leaves), and terpenoids. Ethanolic extracts of leaves, flowers, and fruits yielded alkaloids, flavonoids (+++), indoles, phenols, saponins, steroids, and tannins (none in leaves and flowers). (32)
• Hexane crude extracts of fruit yielded 17-(1,5-Dimethyhexyl)-10,13-dimethyl-2,3,4,7,8,9,10,11,12,13,14,15, 16,17- tetradecahydro-1H-cyclopenta[α]phenanthren-3-ol, campesterol, stigmasterol and β-sitosterol and 7-hydroxy-6-methoxycoumarin was isolated from ethyl acetate crude extract of fruit. An ethyl acetate crude extract of fruit yielded 7-hydroxy-6-methoxycoumarin. (see study below) (34)
• Extracts from stem, leaf, pericarp and root yielded unsaturated fatty acids (linoleic acid and oleic acid) and saturated fatty acid (palmitic acid, stearic acid, richinoleic acid, ligniceric acid, lauric acid, myristic acid and behanic acid). (see study below). (39)
• Proximate analysis of fruits yielded moisture 59.51±0.47, carbohydrate 11.9±0.36, total sugar 9.52±0.48, protein 1.46±0.23, ascorbic acid 37.4±3.64. Micronutrient analysis yielded (mg/100g) 5.22, sodium 31.98, potassium 745.01, calcium 146.57, copper 1.37, manganese 7.51, zinc 3.41. (41)

Properties
• Considered cooling, antipyretic, antirheumatic, antiphlogistic, anti-infectious, anti-contusion, anti-inflammation and analgesic.
• Fruit considered tonic, analgesic, haematopoietic, diuretic, sedative, digestive, and antimicrobial.
• Studies have suggested antimicrobial, antiviral, immunosecretory, analgesic, anti-inflammatory, anti-ulcer, cardioprotetive, nephroprotective properties.

Parts utilized
· Roots.
· Wash thoroughly and cut into slices before sun-drying.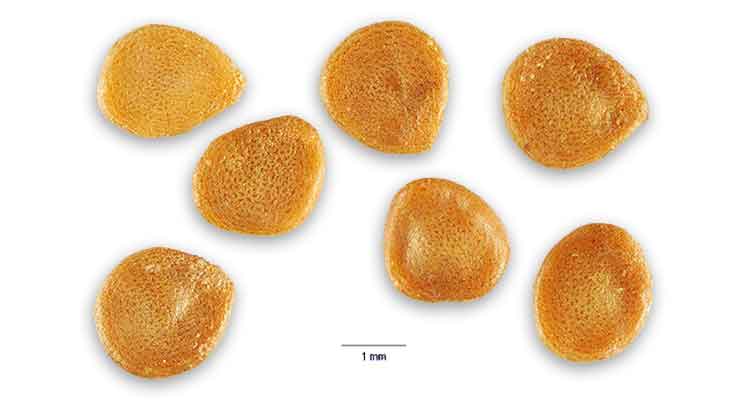 Uses
Edibility
· Malays use the fruit in curry preparations.
- Fruit preferred unripe and provides a good flavoring.
Folkloric
· For stomach ache, pain caused by contusion, internal bruise on the belly muscle - use 15 to 30 gms of dried drug. Boil to decoction and drink.
· Used for amenorrhea, indigestion, gastric pain at the navel, rheumatism-numbness, sprain contusion, lumbar muscular pains.
· Fruit used for poulticing cracks in the feet.
· Decoction of fruits used for cough, liver and splenic enlargement.
· In Yucatan, plant is considered sudorific, diuretic, narcotic and as resolutive, and used for convulsions, coughs, asthma, gout, rheumatism, syphilis, and skin diseases.
· Decoction used in some areas (Bukidnon) to lessen postpartum hemorrhage.
· Dosage: 15 to 30 gms dried roots in decoction, or processed into syrup or alcoholic suspension.
· In Tamil Nadu, India, leaf juice used to reduce body heat and unripe fruits used to strengthen the body.
· In Africa, infusion of leaves taken orally for antidote use.
· In Sierra Leonne, fruit used in cough medicines for children.
· In Cameroon traditional medicine, use for management of pain and inflammation.
Studies
• Platelet Aggregation Effects: Two Indonesian plants, N officinale and S torvum, were studied for platelet aggregating effects. The ethanol extract exhibited a more potent effect. (1)
• Analgesic / Antiinflammatory: Nigerian study of aqueous leaf extract of S torvum showed both analgesic and antiinflammatory properties. (3)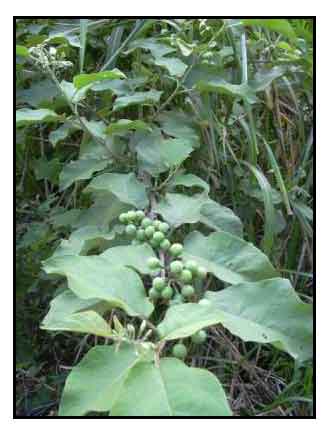 • Metabolic and Blood Pressure Effects: Methanolic extract of Solanum torvum reduced blood pressure, vascular reactivity changes to catecholamines and reversed metabolic alterations induced by fructose. (4)
• Antioxidant Effects / Cytochrome Enzyme Inhibiting / Free Radical Scavenging: Study showed S torvum is a natural source of polyphenolic antioxidants, which have cytochrome P450 2E1 enzyme inhibiting and free radical scavenging properties, and suggests a potential use for reducing oxidative stress in diabetes. (5)
• Antibacterial: In an in vitro study of S. torvum against human pathogenic strains, the water and ethanol extract was found effective against all bacterial strains with an inhibition comparable to that of commercial antibiotics. (8)
• Antibacterial / Antifungal: Methanolic extracts of roots of S. torvum exhibited promising antibacterial and antifungal effects on all organisms tested (6 gram(+), 9 gram(-) and 8 pathogenic fungi). (9)
• Anti-H. Pylori / Antifungal: Helicobacter pylori infection is associated with an increased risk for duodenal ulcers, gastric ulcers, gastric adenocarcinoma and gastric lymphomas. Study of S. torvum extracts showed inhibition of H. pylori growth. S. torvum chloroform extract also suppressed H. pylori-induced apoptosis. Further studies are needed to elucidate the molecular mechanisms of H pylori growth inhibition. (10)
• Antimicrobial: Study showed S. torvum not only demonstrated antimicrobial activity but the extract also exhibited significant control of seed borne pathogenic fungi and bacteria. Results suggest a potential for exploitation for paddy disease management. (13) Ethanolic extracts of stem, leaf, pericarp, and root showed antibacterial activity against Bacillus sp, K. pneumoniae, S. aureus, and Micrococcus sp and antifungal activity against Tricophyton surans and Aspergillus niger. (see constituents above) (39)
• Alkaloids: Comparative study of S.. torvum Sw grown in India and Chiapas, Mexico, showed similar total alkaloidal content. However, solasodine was found only in Chiapas plants. Study also yielded solasonine and solamagine, two glycosylated compounds of solasodine, which can b used as substrate for the production of important steroids in pharmacology. (14)
• Acute and Subacute Toxicity Studies: Study of hydro-ethanolic extract of the ripe fruit showed it was not highly toxic. However, consumption at higher doses over 16 g/kg could cause liver injury. Moderate consumption of small doses up to 1 g/kg twice a week for 6 weeks appeared safe. (15)
• Antibacterial / Antioxidant: Study evaluated various extracts from powdered S. torvum for antibacterial and antioxidant activity. Phytochemical screening yielded alkaloids, flavonoids, glycosides, phenols, saponins, and sterols. Results showed dose dependent antibacterial and antioxidant activity at varying concentrations. (17)
• Antidepressant / Anxiolytic / Adaptogenic / Torvanol A/ Seeds: Study isolated torvanol A, an isoflavonoid from the seeds of Solanum torvum. Results showed antidepressant, anxiolytic and adaptogenic activities suggesting involvement of noradrenergic, dopaminergic, serotonergic and gabaergic mechanisms. (18)
• Toxicity Studies: Study evaluated the oral toxicity in Sprague Dawley rats using a decoction of leaves and stems. Results showed no clinical signs of toxicity or animal deaths. The tested decoction, administered at one dose, is regarded as unclassified for the animal model and dosage used. (19)
• Bruhati moola / Anti-Inflammatory: Study showed Bruhati moola is not only effective in inflammation, but also safe to use without any harmful effects. (20)
• Cardioprotective / Doxorubicin-Induced Cardiotoxicity / Flavonoids: Oxidative stress is the main factor in doxorubicin-induced cardiotoxicity. Study showed S. torvum has the potential of preventing cardiotoxicity induced by Doxorubicin. The protection was attributed to flavonoids. (21)
• Cardiac Effects / Hypotensive / Decreased Anti-Platelet Aggregation: Study evaluated the cardiovascular activity of aqueous and methanol extracts of fruits of S. torvum. The methanol extract reduced heart rate at all test doses. Both extracts induced significant reduction in arterial blood pressure probably from the bradycardic effect. The aqueous extract dose-dependently inhibited platelet aggregation. (22)
• Modulation of Lysosomal Activities / CCl4 Vapour Induced Liver Damage: Study showed Carica papaya and Solanum torvum reversed the effect of carbon tetrachloride vapour induced liver damage. The plant extracts prevented leakage of lysosomal enzymes by increasing the stability or decreasing vulnerability of lysosomal membrane possibly through its antioxidant property. (23)
• Methyl Caffeate / α-Glucosidae Inhibition / Anti-Diabetic: Study isolated methyl caffeate, a rat intestinal sucrase and maltase inhibitor. Its moderate inhibitory action against α-glucosidase presents a potential prospect for the antidiabetic use of S. torvum fruit. (24)
• Study on Dry Sundakai Powder Supplementation / No significant Changes: After one month of dry Sundakai powder supplementation (7 gm proving 1.23 g crude fiber) on 30 non-insulin dependent diabetes mellitus patients, no significant changes were observed with respect glucose, lipid profile, glycated proteins, total amino acids and uronic acid levels. (26)
• Hypertensive Effect / Toxicity Study: Study evaluated the acute toxicity and effect of oral aqueous extract of S. torvum in chronic arterial hypertension induced by L-NAME. Results showed no mortality nor visible signs of toxicity. AEST induced potentiation of arterial hypertension and cardiac hypertrophy in
L-NAME treated rats, an effect that may be due to reduction in sensitivity to vasorelaxant agents and increase in hypersensitivity to contractile factors. Its in vitro vasocontractile activity may be from activation of both α1-adrenergeic pathway and calcium influx. (27)
• Hepatoprotective / CCl4 Induced Toxicity: Study of a hydroalcoholic extract of fruits showed promising hepatoprotective activity as evidenced by biochemical parameters. However, the overall hepatoprotection is low compared to standard drug silimarin. (29) Study showed Solanum torvum reversed carbon tetrachloride damage associated with activities of lysosomal enzymes vis NAG, glucoronidase, alkaline phosphatase and bilirubin levels. (30)
• Antifungal / Antimycotoxigenic / Leaves: Study investigated the antifungl effect of ST leaves against field and storage fungi. Study isolated an antifungal compound, torvoside K, which inhibited the growth of all fungi tested, with complete inhibition in vitro and in vivo of growth of A. flavus and F. verticillioides and aflatoxin B1 and fumonisin B1. (31)
• Anti-Inflammatory / Toxicity Study: Study evaluated a methanolic extract of raw berries showed anti-inflammatory activity by carrageenan induced paw edema in an animal model. The extract showed no toxicity or mortality up to the dose level of 3000 mg/kg body weight in rats, and considered safe and non-toxic for further pharmacological screening. (33)
• Lipase Inhibitory Activity / Fruit: Study an ethyl acetate crude extracts of fruit showed lipase inhibitory activity. The mixture of 17-(1,5-dimethyhexyl)-10,13-dimethyl-2,3,4,7,8,9,10,11,12,13,14,15,16,17- tetradecahydro-1H-cyclopenta[α]phenanthren-3-ol, campesterol, stigmasterol and β-sitosterol exhibited moderate lipase inhibitory activity with IC50 value of 82.56 mg/mL (see constituents above). (34)
• Anti-Proliferative/ Anti-Cancer: Extracts of takokak fruit inhibited (1) lung cancer cells (A549) with IC50 was 335.7 μg/ml, (2) breast cancer cells (MCF-7) with IC50was 1,153.5 μg/ml, and (3) cervical cancer cells (HeLa) with IC50 was 1,261.8 μg/ml. (35)
• Benign Prostatic Hypertrophy: Study showed the therapeutic potential of S. torvum for the treatment of BPH because of it anti-inflammatory, immunomodulating and antioxidant activity. (36)
• Antimitotic / Anticancer: Study of extracts of S. torvum showed to be extremely effective in prevention of cell proliferation of mammary gland breast adenocarcinoma cell lines The pronounced antimitotic and anticancer activities was attributed to its potential antioxidant property and the key roles of polyphenols, steroidal saponin glycoside, alkaloids and flavonoids. (38)
• Anthelmintic: Study of S. torvum fruits showed anthelmintic activity against Ascaridia galli, a common gastrointestinal parasite of domestic fowl (Gallus gallus domesticus). The report throws light on the use of S. torvum fruits has herbal anthelminticide for humans. (40)
• Methyl Caffeate / Antidiabetic / Antihyperglycemic: Study of methyl caffeate in streptozotocin induced diabetic rats showed significant reduction in blood glucose and increased body weight. Methyl caffeate treated diabetic rats showed upregulation of GLUT4 and regeneration of ß-cells in the pancreas. Results suggested a potential for a potent oral antidiabetic drug. (42)
• Toxic Myopathy in a Case of Acute Toxicity:Toxicity of berries appear to be related to the concentration of steroid glycoalkaloids in berries, which are higher in toxic berries than in non-toxic berries.. Toxicity of berries may be related to the maturity of berries or environmental stresses. In a toxicity case, electromyography showed myotonia and early recruitment of motor units with full interference pattern. The responsible chemical, although unknown, is likely due to solanaceous steroidal glycoalkaloids. (43)
• Biogenic Silver Nanoparticles / Antimicrobial Potential: Report focused on the biological synthesis of silver nanoparticles using Solanum torvum. Results showed S. torvum mediated silver nanoparticles could act as an effective antimicrobial agent. (44)
• Anti-Obesity / Anti-Diabetic / Leaves: Study of ethanolic extract of leaves showed both antidiabetic and anti-obesity activity when fed to high-fat diet-induced obesity and type-2 diabetic male albino rats. (45)

Caution !
Toxicology: Reports on two outbreaks (New York and Toronto) of poisoning by cucumber berries (Solanum torvum) and detection of alkaloids. Consumption of berries caused varying degrees of GI distress, diarrhea, weakness, dizziness, slurring of speech, ataxia, cranial nerve deficits and respiratory difficulties. Poisonous berries are indistinguishable from non-toxic varieties. Solasonine and larger amounts of solamargine and other steroidal glycoalkaloids were isolated from the toxic berry strains.
Availability
Wild-crafted.