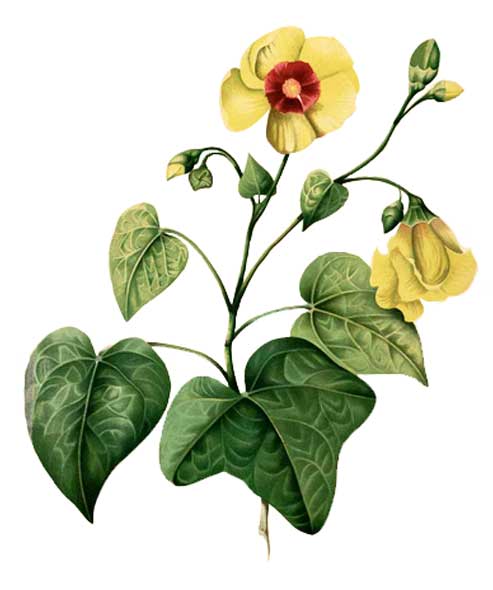 Botany
Bulak-bulakan is an erect, slightly branched shrub growing to 2 to 3 meters high. Leaves are ovate, 10-20 centimeters long, somewhat 3-lobed or nearly entire, green and nearly smooth in the upper surface, hairy beneath, pointed at the tip, and broad and heart-shaped at the base. Flowers are large and borne in threes in the apex of the branches or at the axils of the leaves. Calyx is green with 5 pointed lobes united below the middle. Corolla is bell-shaped, 6 to 8 centimeters long, yellow and dark-purple at the center. Capsules are ovoid, about 3 centimeters long, with 4 to 5 valves.
Distribution
- In open places and thickets at low and medium altitudes.
- In Abra, Lepanto, Bontoc, La Union, Pangasinan, Bulacan, Rizal, Bataan, and Laguna Provinces in Luzon; and in Culion, Negros, and Panay.
- Also reported from India to tropivcal Africa, and Indo-China to Malaya.
Constituents
- Coloring matter from the yellow petals contain quercetin and protocatechuic acid.
- Study has confirmed quercetin as the principal coloring matter of the flowers.
Parts utilized
Roots and fruits.

Uses
Folkloric
- In India, roots and fruits used for gonorrhea and syphilis.
- Root paste used by the Korku tribe of Maharashtra and Nepal to cure jaundice.
- Stem of plant used traditionally for treatment of inflammation, hyperacidity, epistaxis, bronchitis, cough, dysentery, fever, sun stroke, carbincles, and worms.
- In the Indian system of medicine, root juice used in various ailments and as health tonic.
Others
- Fiber: Bast makes a weak rope.
- Dye: Yellow petals yield a coloring matter; study yielded quercertin and protocatechic acid.
- Cotton from the seeds used to make clothing.

Studies
• Anthelmintic: Aqueous extract of T lampas tested against earthworms, tapeworms and roundworms showed vermicidal activity and found it effective as an anthelmintic.
• Antioxidant: Study showed in vitro antioxidant activity, with a relationship between extract concentration and percentage of inhibition of free radicals, metal chelating, reducing power and lipid peroxidation inhibition.
• Hepatoprotective: Study in carbon tetrachloride-induced hepatocellular damage, T lampas exhibited a statistically significant reduction of elevated enzymes. Hepatoprotective effect was confirmed by histopathological liver exam. Results provide pharmacologic support for its folkloric use as a hepatoprotective agent.
• Hepatoprotective / Anti-Inflammatory: Study of extracts of T lampas showed both antioxidant activity and anti-lipoxygenase activity. Results elucidates a possible contribution of the radical scavenging effect on the lipooxygenase inhibitory mechanism. Lipoxygenases are critical in the biosynthesis of leukotrines which play an important role in the pathophysiology of inflammatory disease.
• Anti-Hyperlipidemic: Study established the lipid lowering properties of the aqueous extract of roots of Thespesia lampas. Total cholesterol, LDL, VLDL and triglycerides were significantly reduced, while HDL was significantly increased.
• Hepatoprotective / Antioxidant: Study of stem extravcy showed significant antioxidant activity and hepatoprotection against carbon tetrachloride induced damages.

Availability
Wildcrafted.